Meet the 25-year-old who plays the cello for beluga whales in northern Canada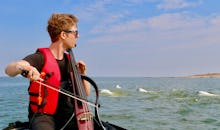 The gurgling hum of the inflatable boat comes to a stop as we glide along the turbid waters. Rob Knaggs lifts his electric cello off the floor of our zodiac and slowly begins to play. The instrument, which looks more like a Picasso rendering of a cello than the actual thing, is plugged into a hydrophone that gently broadcasts his melodies below the waves.
He arcs his bow back and forth, like a saw felling a tree. At first his rhythms are melodic — mathematical, even — then he changes the course of his bow to mimic the call of a whale.
Dozens of large white bumps suddenly emerge from the deep: Curious belugas coming to check out the music and play in our zodiac's wake. It's here, at the outlet of the Churchill River, where its silty waters meet the Hudson Bay, that more than 3,000 beluga whales congregate each summer to birth their young. But Knaggs is a long way from home.
Born in the U.K. and raised in Brisbane, Australia, Knaggs' journey to the Canadian sub-arctic rivals the migration of his cetacean friends. "I had always been into the environment and arctic wildlife," he explained, taking a break from his strumming. But it was a university lecture about site-specific performances that was the clincher for the young musician. During the presentation he watched a short video of American professor David Rothenberg play the clarinet for humpback whales, and Knaggs was hooked.
It would be several years before he'd find himself up in Churchill, a town in northern Canada. He took an extended gap year to travel the world and work odd jobs while crashing on strangers' couches, eventually receiving a message that led to finding his life's passion.
"Sound is as important to belugas as vision is to humans." — Valeria Vergara, research scientist at the Vancouver Aquarium
"Belinda [Fitzpatrick], this crazy Australian, emailed me telling me that she needed a musician and server and suddenly I had a one-way ticket up to Northern Manitoba," Knaggs said. He quickly witnessed locals and visitors eliciting the belugas' attention through soft singing and hums, and it wasn't long before Knaggs started writing his own orchestrations for his new whale friends.
"Belugas are one of the most vocal mammals on the planet, along with humans," Valeria Vergara, a research scientist, said in an interview. Vergara discovered that while whales use contact calls to communicate in turbid waters. They broadcast their own identity, or "signature," to remain close to their family. "Sound is as important to belugas as vision is to humans," she continued.
Vergara, who works at the Vancouver Aquarium, has spent the last 17 years studying the communication patterns of beluga whales. Although she's unaffiliated with beluga tourism in Churchill, Vergara has visited the area as part of her research surveys of the Hudson Bay and Canadian sub-arctic where nearly 60,000 whales congregate every summer.
Earlier this year while completing his bachelor's degree back in Brisbane, Knaggs released his debut album, Up the Middle, which was directly inspired by his time in Churchill. "I wrote my version of Vivaldi's Four Seasons as a tribute to that tiny town on the edge of the Hudson Bay," he said, citing Sigur Rós, Ólafur Arnalds and several other Icelandic artists as major influences, all of whom have spent a great deal of time in the North as well.
After finishing his album, Knaggs immediately found his way back to Canada, taking Fitzpatrick up on another job offer at the Tundra Inn.
I'm lucky to catch Knaggs out on the water; he doesn't play for the whales as often as he'd like. We're aboard Explore.org's research vessel, which broadcasts daily live footage both above and below the water during the months of July and August. In addition to the hundreds of circling whales, Knaggs also plays for thousands of armchair travelers at home who regularly tune in on their laptops to watch the animals swish through the bay with their adorable smiles and perked necks that crane in the most human of ways. Viewers can even participate in Beluga Bits, a volunteer research initiative that uses the screen grabs of Explore.org's underwater camera to help identify the age, sex and group size of the whales that return to Churchill each summer.
Currently, almost all of the studies being funded in the Canadian North deal only with the empirical elements of whale behavior — how they live and act together, without the introduced human element. But as the belugas crane their necks above the water's surface and ring their sonars in response to Knaggs' playing, it's impossible not to acknowledge the compelling link between man and animal.
"No one has had time to conduct this experiment yet, but it'd be incredible to know for certain if the belugas actively pursue my music," Knaggs said. "From my experiences out on the Churchill River, with numerous pods crowding the zodiac as I play, I get the impression that these whales truly enjoy what I do." The musician hopes to use his music to grow awareness about arctic wildlife. "I want to be an active part of bridging the lines of interaction and communication between man and non-human animals, while proving that these creatures share some of our own emotions."
How to have your own beluga experience
Regular flight service connects the windswept corners of northern Manitoba to the rest of Canada. Frontiers North offers a connection from Winnipeg, Manitoba's capital, up to Churchill and plans activities. The company's highly regarded Belugas, Bears and Blooms itinerary has two versions, ranging from $3,000 to $5,000, flights included. The Enthusiast level is an all-inclusive package, while the Adventurer level allows for more free time to tack on snorkeling, kayaking and stand-up paddle boarding excursions on the water, in addition to the pre-planned boat and zodiac tours. You won't be able to hear Knaggs play on these trips, so follow him on Explore.org's live cam instead.