Flynn may have concealed more foreign contacts. Here's how that could impact the Russia probe.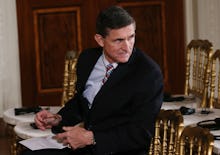 Former National Security Adviser Michael Flynn may have violated federal law by failing to disclose contacts he'd had with foreign officials as part of a United States-Russia nuclear power plan, House Democrats suggested Tuesday.
In a letter to Flynn's lawyer made public Wednesday, Reps. Elijah Cummings (D-Md.) and Eliot Engel (D-N.Y.) accused Flynn of "omitting" from his security clearance form a 2015 Middle East trip he took as part of an effort to bring nuclear reactors to Saudi Arabia — and said it had "significant questions" about the possibility that the retired general was still involved in the project after joining the Trump administration.
Flynn — who resigned in scandal less than a month after President Donald Trump took office — was apparently involved in a U.S.-Russia business project to bring nuclear facilities to Saudi Arabia. Cummings, ranking member of the House Oversight committee, and Engel, ranking member of the House Foreign Affairs committee, suggested in July that his work may have resulted in the government of Saudi Arabia making a $100 billion deal in 2016 with Russia's state-owned nuclear company.
The answers they got from Flynn's lawyer, Cummings and Engel wrote Tuesday, seemed to confirm that the undisclosed trips took place — and raised the possibility that the embattled Trump ally may have continued his involvement in the deal after assuming his role in the administration.
The House Democrats forwarded the lawyer's responses to special counsel Robert Mueller, they wrote in the letter.
"The American people deserve to know whether General Flynn was secretly promoting the private interests of these businesses while he was a campaign adviser, a transition official or President Trump's national security adviser," Cummings and Engel wrote.
What do new Flynn accusations mean for Russia probe?
The accusations against Flynn could have an impact on the Russia investigations going forward.
As Cummings and Engel note in their letter, concealing his foreign contacts could violate federal law against officials "knowingly and willfully" making false statements or entries — an offense punishable by up to five years in prison.
That, according to former federal prosecutor Patrick Cotter, would likely be leveraged by investigators to gather more information for their probe moving forward.
"That's very standard," Cotter said in a phone interview Wednesday. "That's simply good investigative procedure."
According to Cotter — currently with the law firm Greensfelder, Hemker and Gale — if prosecutors gain enough evidence on Flynn to charge him with a crime, they could reduce those charges or the penalty sought in exchange for information about other subjects of the probe.
Fired FBI Director James Comey suggested the possibility of such a deal with Flynn in June, when he said during his Senate testimony that "there is always a possibility if you have a criminal case against someone and you bring them in, squeeze them, flip them, [that] they give you information about something else."
Still, while Cotter said that the developments on Flynn are "significant," he cautioned against drawing strong conclusions from them, saying that they mostly show that the investigations are proceeding "the way you would expect it to."
"I think it tells you what you already knew," Cotter said. "The investigation is ongoing. It's serious."
Cummings and Engel are now seeking more documents relating to the project, as well as interviews with Flynn's lawyer and associates.
That they shared their information with Mueller suggests coordination between the separate investigations, which have reportedly butted heads at times as the parallel probes have accelerated in recent weeks.
The FBI investigation in particular has appeared to intensify recently, with Mueller's team seeking interviews with members of Trump's inner circle.
According to Cotter, the investigation actually seems to be moving more quickly than it may seem to many.
"The investigation may look like it's going slow, but my view is, it's actually moving at a pretty good clip," Cotter said.
Flynn has long been a key figure of that investigation, which was reported on Wednesday to have expanded to include his son, Michael G. Flynn. Federal investigators are apparently examining the younger Flynn over work he did for his father's lobbying firm, which has been a central focus of the inquiry into the retired general.