Widow of Indian man slain in alleged Kansas hate crime now facing deportation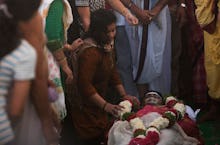 When a white man shouting racial epithets gunned down Indian national Srinivas Kuchibhotla in a bar in Olathe, Kansas, in February, Kuchibhotla's widow, Sunaina Dumala, lost more than a husband — she also lost her U.S. resident status.
Dumala — who has lived in the U.S. since she enrolled in college in Minnesota in 2007 — told the Kansas City Star in an email that after she and Kuchibhotla married in 2012, they jointly applied for a green card on the H-1B visa he received as a specialized worker at the technology firm Garmin.
But because of backlogs in the visa issuing process, the couple was still waiting for approval when Kuchibhotla was killed in an act of domestic terrorism years. Now, Dumala told the Star, she finds herself back at square one.
"On the fateful night of Feb. 22, I not only lost my husband but also my immigration status," she wrote in an email to the Star. "I'm very fortunate that many people came to my rescue to get me back on a temporary status ... and are continuing to work on a permanent fix."
At a time when the potential repeal of the Deferred Action for Childhood Arrivals program looms large, comprehensive immigration reform — and solutions to situations like Dumala's — are urgently needed, now more than ever.
The "Fairness for High-Skilled Immigrants Act"
One of the people who reportedly "came to [Dumala's] rescue" after hearing of her plight was Rep. Kevin Yoder, a Kansas Republican who told the Star in an interview, "We are not going to deport the widow of the victim of a hate crime."
In July, Yoder's office announced he had become the lead sponsor of the Fairness for High-Skilled Immigrants Act — a bill designed to help highly skilled workers seeking permanent residence in the U.S. through legal channels to overcome "arbitrary caps on how many green cards immigrants from specific countries can receive."
"I've always said that our nation is a nation of immigrants, as well as a nation of laws," Yoder said in a statement. "This legislation strikes the perfect balance by achieving significant reforms of our employment-based green card system, helping American companies hire high-skilled immigrants to help grow our economy."
Yoder, it's worth noting, opposes DACA, which grants work permits and federal protections to undocumented young immigrants who arrived in the country before they turned 16. But the proposed legislation for highly skilled immigrants could mean a form of relief for Dumala and others like her.
Since the spring, Dumala has been able to secure an employment authorization document, which is valid for 12 months. Her next step will be to seek an H-1B work visa which, if granted, would allow her to re-enter the backlogged pool of green-card seekers from India.
"Both I and my husband got our home here and had many dreams," she told the Star. "I want to fulfill those dreams by staying here."