Why American cheese will always reign supreme — in fine-dining kitchens and in our hearts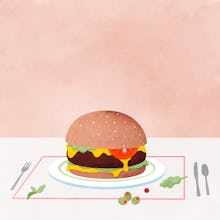 In 2017, a no-frills sandwich shop in New Orleans made national news, winning accolades as one of America's best new restaurants. Turkey & the Wolf was praised for its well-constructed sandwiches, including the most popular menu item: a fried bologna sandwich. The meat is sourced locally and mustard made in-house, but the cheese is gleaming, industrialized, boldly beautiful American.
American cheese provides part of "the spiritual and practical backbone" of chef Mason Hereford's operation, Colleen Quarls, Turkey & the Wolf chef de cuisine, said in an interview with Bon Appetit. Additional pillars include Duke's mayonnaise, white bread and iceberg lettuce.
The enduring appeal of American cheese
Burgers never really go out of style in America; but, in recent years, top-ranked chefs have given them modern makeovers with thoughtfully sourced proteins and toppings like housemade ketchup. (The latter has become so ubiquitous it inspired a 2016 New Yorker satire, "We Do Our Own Little Take on Ketchup.") Through it all, American cheese remains steadfastly on the most highfalutin of patties.
"It's the only cheese for a cheeseburger," Dale Talde, a chef with restaurants in New York City, Miami and Jersey City, New Jersey, said in an email. He also admitted to eating it plain out of the plastic wrap.
Sean Brock, the James Beard Award-winning chef credited with revitalizing Southern heritage cuisine, blankets his Benton's bacon-and-beef burgers at Husk restaurants in Nashville, Tennessee, and Charleston, South Carolina, with Kraft singles. American cheese also tops burgers at Chicago gastropub Au Cheval and at Carlo Mirarchi's Roberta's in Brooklyn, New York.
At Underbelly restaurant in Houston, James Beard Award-winning chef Chris Shepherd tops his smoked and Impossible burgers with American cheese.
"We played around with cheddar and Swiss a bit, but they didn't melt right and I really wanted something that I grew up with," Shepherd wrote in an email. "I couldn't imagine using anything else."
Portland chef Joshua McFadden is best known for celebrating vegetables at his restaurant Ava Gene's, but even he cannot resist the orange slice of American ingenuity. His menus at Suttle Lodge & Boathouse, a Kinfolk-looking lakeside retreat in Oregon's Deschutes National Forest, include a burger topped with American. His fish sandwich comes with cheddar but McFadden said diners who are "in the know" can order it with American.
"It's melty, perfect and nostalgic," said McFadden. His burger is named for his grandfather, who always had American cheese in the refrigerator when McFadden would visit.
Several enterprising chefs have taken their love of American cheese into their own hands. American cheese advocate Wylie Dufresne and former Epicurious editor Sam Worley have both published recipes for homemade iterations. (Dufresne's recipe was published in Lucky Peach, the now-defunct food magazine that took down its digital archive.) Additionally, chef April Bloomfield famously turned cheddar into an American cheese facsimile at her now-shuttered Salvation Burger in New York City.
Why we crave American cheese
Size is one reason American cheese tops so many chefs' impeccably crafted sandwiches and burgers. Each pre-sliced, perfect square fits neatly atop a three-and-a-half- or four-ounce patty and within a standard-issue bun.
Meltability is another major factor. Unlike blue or feta, American cheese doesn't separate or crumble atop a warm protein, making it a natural for burgers.
"No other cheese can touch its meltability and goo factor." — J. Kenji Lopez-Alt, cookbook author
"American cheese enrobes a burger, grabs onto the piece of meat and hugs it tightly," Shepherd said in an email.
J. Kenji Lopez-Alt, food scientist and author of The Food Lab, wrote in a blog post on Serious Eats, "If I had to pick one cheese to stock in my burger joint, you're damn right it's gonna be American. No other cheese can touch its meltability and goo factor, and that's really what it's there for: texture."
What's in American cheese
Thank American cheese's chemical composition for that reliably luscious ooze. According to Lopez-Alt, it starts with a traditional cow's milk cheese like Colby or cheddar. Producers then add a host of emulsifying salts such as sodium citrate and sodium phosphate, which are also used in commercially packaged hot dogs and ice cream, as well as additional milk proteins and whey, coloring agents and preservatives like sorbic acid.
"It has a lot of stabilizers and emulsifiers in it, so it melts into an incredibly velvet-textured mystery that is somewhere between a solid and a liquid," Edward Lee of the Louisville, Kentucky, restaurant MilkWood said in an email. Lee created an American cheese bechamel for his "Hot Brown" macaroni and cheese, and serves it within a Korean hoedduck-inspired savory bun with curry and braised pork belly.
High-fat, high-moisture cheeses with neutral-to-acidic pH, such as havarti, cheddar or American, are generally considered good melting cheeses. Kraft singles, which the USDA categorizes as a "Pasteurized Process Cheese Food", has up to 44% moisture and 23% meltable fat. The remaining 51% is actual cheese, plus additives like annatto, a Central American berry used to color foods like cheddar and butter.
The most divisive cheese in America
Popular critique of American cheese is such that, when you type "American cheese is" into a Google search field, three of the first four autocomplete options are "fake," "isn't real cheese" and "bad."
This is in part because, like all of us, American cheese can't hide its past from the probing eyes of the internet. "Kraft Deluxe Process Slices" debuted in supermarkets in 1950 and, like many mid-century American foodstuffs, prioritized uniformity and shelf stability.
In the ensuing 60+ years of culinary culture, an attitudinal sea change occurred. These days, Kraft is a particularly prominent target for American cheese detractors, some of whom "contend that many of its products are over-processed, with too much fat, sodium, sugar, artificial dyes and preservatives," the New York Times reported.
Due to its unnatural appearance and industrial lineage, American cheese is an easy mark for consumers eager to distance themselves from a marigold-yellow antiquity.
It all comes down to nostalgia
Our modern love affair with American cheese — and our loyalty to the orange dairy product – also boils down to its sentimental nature.
"American cheese is all about nostalgia," Lee, the Louisville-based chef, said. "Every kid growing up in a certain generation melted American cheese on cheap white bread… It has an unmistakable smell that reminds me of a simpler time when we didn't anguish over every last ingredient that we put in our mouths."
Shepherd agreed: "It's the flavor and texture that I remember growing up," he said.
Whether it's melting onto bologna at a New Orleans sandwich joint, or used in a mac and cheese sauce, American cheese recalls an American childhood in ways that are both obvious and nuanced. Its unchallenging flavor profile is comforting and familiar. Each slice tastes like after-school snacks, backyard cookouts and simpler pleasures like unadulterated slices eaten in front of an open refrigerator. There's nothing more satisfying.