After in-demand model Teddy Quinlivan comes out as trans, the fashion world erupts in support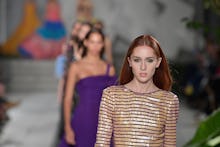 Being out and transgender used to be the kind of thing that could bring a fashion model's career to a screeching halt. Take Vogue model April Ashley, whose career abruptly ended in 1961 after she was outed by a friend. Same goes for Tracey "Africa" Norman, who despite being a hugely successful model photographed for the likes of Vogue Italia and Harper's Bazaar, saw the end of her modeling days after falling victim to an outing in the early 1980s. (She'd later revive her career in 2016.)
Thankfully, we do not live in the '60s or '80s anymore, but in 2017 — when a very successful model who's worked with Rodarte, Marc Jacobs, Chanel, Gucci, Gaultier, Dior, Saint Laurent, Carolina Herrera, Diane von Furstenberg and others can come out as trans and not only be accepted by the fashion community, but cheered on.
That's what happened to Teddy Quinlivan, who announced her trans identity Wednesday in a CNN article. "I want to help break the stigma of what it means to be transgender," Quinlivan said in a statement. "We need more and more trans voices to speak out and share our humanity so that the world stops seeing us as 'other.' We deserve to be treated with dignity and respect both under the law and in our daily lives. I will promote love, understanding, and acceptance of trans people." 
Some of the biggest names in fashion have already praised her decision, including Louis Vuitton creative director Nicolas Ghesquière, who met Quinlivan, now 23, in 2014.
"As an exclusive model for Louis Vuitton, we spent months together working on collections," Ghesquière said in a press release. "When the time came for her to start her career, I was amazed and proud to see how she embraced the fashion marathon with such a fantastic success. Today [is] important for her and I would like to express my full support and love."
Legendary makeup artist Pat McGrath also voiced her support after knowing Quinlivan for years.
"Over my past three decades as a makeup artist, I have been fortunate enough to work with some of the most renowned models of all time — extraordinary women of supernatural beauty," McGrath said in a press release. "In fall 2015, I met a young woman named Teddy Quinlivan who instantly transfixed me with her iconoclastic glamour and irrepressible spirit. When she told me her plans to share her story and become an advocate for the trans community, I knew that she would join that pantheon of women [whom] the world looks to not only for their beauty, but for what they represent — fierceness, fortitude and fearlessness."
Designer Marc Jacobs, for whom Quinlivan has walked in multiple shows, also released a statement in support. "I was first introduced to Teddy Quinlivan during castings for our Fall/Winter 2016 fashion show," Jacobs said. "As a model, she has and continues to inspire me with her energy, enthusiasm and commitment."
"I respect, admire and support Teddy's decision to come out as transgender," Jacobs continued. "Now more than ever, it is vital that we pledge our allegiance to the LGBT community and use our voices to encourage and inspire acceptance, equality, understanding and love. I am so proud to know Teddy."
For Arisce Wanzer, a trans model herself, she's incredibly proud that more models like her are coming out — and speaking up.
"I am so proud and elated to see so many major models coming out and shedding light on what beauty and representation really are," Wanzer said in an email "From Andreja Pejic transitioning publicly, Hanne Gaby Odiele educating everyone to her experience being born intersex, and now Teddy Q. coming out as transgender, things are certainly looking up for equality and talent recognition. My hope for Teddy and all of us is that she continue to thrive as she always has and show the world that our community is beautiful."
We only expect more people in the fashion industry to speak up, too.
What Quinlivan's announcement shows is that models know being trans is no longer the death knell to their own careers, though it's unfortunate that some are spurred to come out, at least in part, due a toxic political climate and surge in trans murders.
"Transgender people, particularly transgender women of color, are still being murdered at an astronomical rate, simply for being ourselves," Quinlivan said in her release. "Additionally, our rights are under constant threat from the highest levels of our government and through cruel proposed legislation across the country that is designed to put us in harm's way. Enough is enough. We deserve justice and I will use my voice to help our diverse, vibrant and resilient trans communities overcome these obstacles and thrive."
Quinlivan spoke at length about her transness in a new film on Instagram, which you can view below:
Mic has reached out to Quinlivan for comment and will update this story when we hear back.