Cardi and Lupita and Leslie, oh my! Here's the 17 best front-row looks at NYFW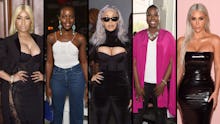 Sure, all eyes might be on the models coming down the runway at New York Fashion Week, but we have to give it to the attendees this year. In many cases, they were dressed far more interestingly than any of those models: Take, for example, Nicki Minaj wearing a massive fur coat to a quiet show or Cardi B being, well, Cardi B.
In celebration of those people, we decided to round up the best dressed at NYFW's front rows.
Here are our favorites:
Cardi B at Fenty Puma by Rihanna and Christian Siriano
Call this a two-for-one special. Cardi B was all over fashion week this season, and never once did she disappoint. Her two best looks were most definitely at Fenty Puma by Rihanna, for which she arrived looking like a '90s dream girl, and Christian Siriano, for which she arrived in a Siriano black velvet ensemble, complete with a bustier.
Our petition to make Cardi B the next Catwoman starts now.
Leslie Jones at Christian Siriano
I mean, really, in a sea of melancholy faces at the front row of any fashion show, is there anything better than one person going, "Nah, I'm stoked to be here"?
That's what Leslie Jones did at the Christian Siriano show this week, hollering and clapping as models made their way down the runway. She arrived in Siriano herself, donning black leather pants and a hot-pink jacket.
Nicki Minaj at Oscar de la Renta and Marc Jacobs
The best thing about this look that Nicki Minaj put together for the Oscar de la Renta show this week is that none of it is necessary.
It wasn't that cold in New York, and the designers were actually showing spring clothing, but Minaj seemingly wanted to wear a black and white fur coat à la Cruella de Vil, so she damn wore it.
She opted for a more sophisticated black lace look to close out NYFW at Marc Jacobs' show.
Diane Keaton at Ralph Lauren
For the past 30-something years, Diane Keaton has decided that suits are her thing, and we're not mad at her.
For the Ralph Lauren show, she showed up in, yeah, another suit. An icon is an icon is an icon.
Lupita Nyong'o at Calvin Klein
We don't deserve Lupita Nyong'o. For Calvin Klein she wore a completely basic outfit: just a pair of wide-leg jeans, white stilettos and a white top, but because Lupita is Lupita, she shined.
Those earrings were everything.
Mahershala Ali, Jake Gyllenhaal and Trevor Noah at Calvin Klein
Need we say more?
Millie Bobby Brown at Calvin Klein
Looking fresh and young and uber cute with that hair slicked back and minidress, Millie Bobby Brown was as chic as they come.
Huma Abedin at Prabal Gurung
Had Hillary Clinton won the electoral college, we would be steadily writing about Huma Abedin these days. Known for her streamlined and modern silhouettes, Abedin fit right into the front row at Prabal Gurung. The show had a slight political message, in the form of T-shirts back stage and on its designer, which read "Resist with" and then a pink heart.
Kim Kardashian West at Tom Ford
Kim Kardashian West is the only living, breathing human being who could pull off this entirely black latex look at a Tom Ford fashion show, and for that she should be awarded a medal.
Kelela at Calvin Klein
It's easy to say that Calvin Klein had the best-dressed front row this season, isn't it? The singer Kelela, who's not that widely known but should be, only added to that esteem. She wore, of course, Calvin Klein, but it was the crystal beads she wrapped into her hair that landed her her very own Vogue article.
Nicole Kidman, Naomi Watts and Catherine Zeta-Jones at Michael Kors
What Nicole Kidman wore to the Michael Kors show isn't even that special in comparison to some of her most notable looks this year — just a Michael Kors dress — but she's Nicole Kidman, so she should be on this list.
Also, shout out to Naomi Watts and Catherine Zeta-Jones, both, like our mother, looking beautiful.