The 'Bachelor' franchise has never been more cynical — or successful at romance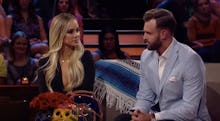 During Monday night's live after-show following the Bachelor in Paradise finale, Chris Harrison — the longtime and never-aging host of the Bachelor franchise — declared that the evening's events made for "one of the weirder nights" of his life.
In quick succession, three of the show's final five couples took the stage. And with each subsequent pair, the women in the duos spilled the proverbial tea, painting their on-screen partners as cads and liars, to put it lightly. Going off of the ladies' recollections, Paradise attracts a few variations of a certain kind of guy: the kind likely to two-time you to your face (like Dean Unglert); the kind who'll tell you he loves you to stay on TV (like Daniel Maguire); and the kind who'll beg to be your boyfriend, just so he can level up his brand as "social media influencer" and then apparently cheat on you (like Robby Hayes).
The real unifying attribute among all of the men in question — apart from a loose relationship with honesty — seems to be a preoccupation with their own nascent reality TV fame. And because of that, they all presented and represented a baldly cynical take on the kind of traditional romance that the franchise has been selling for 15 years strong.
Monday's finale appeared to hint at a new direction for the Bachelor enterprise, in which romance is sidelined in favor of the producers' desire for heavily manufactured narrative. Of course, this being reality TV, there's always been an element of manufactured narrative — but it now feels as though the producers and contestants are more blatant about it than ever. (This embrace of the meta-narrative crossed over to the truly distasteful when the show was actively marketed around an incident involving alleged sexual misconduct.)
Even Raven Gates and Adam Gottschalk, one of the two successful couples remaining by the end of Monday night's broadcast, showcased a kind of awareness about their roles as characters in the Bachelor narrative. No reasonable person ambushes their new beau with a surprise introduction to their parents — and on live television, in front of a studio audience, no less; Gates must've known she was channeling Kate Hudson in How to Lose a Guy In 10 Days with that one.
If this most recent season of Paradise is indicative of what's to come, the move would feel especially cynical in light of this summer's season of The Bachelorette. Aside from having the franchise's first African-American lead, the season was largely notable for its record-low ratings and its explicit rejection of the real feelings between bachelorette Rachel Lindsay and one of her two finalists, Peter Kraus. Despite their intense connection, Lindsay and Kraus broke up after Kraus refused to promise that he'd propose at the show's conclusion. (He wanted to just commit to continuing their relationship in the real world.) So Lindsay instead chose the remaining suitor, Bryan Abasolo, as her fiance, seemingly because of his willingness to buy into the show's central premise that the season must conclude with a so-called fairy-tale proposal.
Yet even if producers are making a concerted effort to steer the series into an aggressively self-aware direction — in which the show constantly draws attention to the ways that love on TV is destined to be thwarted — believe it or not, as the show's become cruder, it's continued to produce successful couples.
Though it's been just over a month since The Bachelorette wrapped its most recent season, Lindsay is still engaged to her Abasolo. Earlier on this season of Bachelor in Paradise, Carly Waddell got married to Evan Bass, whom she became engaged to during the show's previous season finale. (The couple recently had the ultrasound for their first pregnancy together live on-air with Chris Harrison.)
The previous Bachelorette, JoJo Fletcher, is still together with fiance Jordan Rogers. Jade Roper and Tanner Tolbert met and got engaged during the second season of Bachelor in Paradise, in 2015. The couple not only had a televised wedding of their own in 2016, but Jade also served as a bridesmaid in Carly's TV wedding earlier this summer, shortly before giving birth to the couple's first child. And those are just some of the Bachelor couples who've gotten together in recent years who've stayed together.
Bad boys regularly overwhelm each season; ex-girlfriends, condemning texts messages and off-camera remarks pop up with even more frequency than champagne and hot tubs — it's just the nature of these kinds of shows. But maybe this kind of unvarnished honesty about what Bachelor shows really are — and the kind of people who want to be a part of them — has somehow made it easier for the people who are, indeed, there for the right reasons to find each other.
In spite of a season of Paradise where the biggest story was the fact that the show opted out of a nuanced conversation regarding consent, sexual assault and the baggage women are saddled with for publicly expressing themselves as sexual beings, the show appears to have a surprisingly strong track record of helping people find love. (First comes love, then come all the sponsored Instagram posts promoting detox teas, I always say.)
So even though the Paradise finale seemed to underline the idea that the Bachelor specializes in lies and not love, the whole exercise continues to have some heart. Raven ambushing her supposed new forever love with her parents might feel dubious, but maybe there's still hope for those who accidentally find each other while staying out of the fray.
Correction: Sept. 14, 2017