New York City bodega workers on whether they feel threatened by the new Bodega startup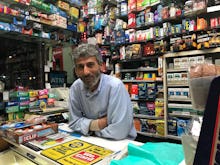 "It's bullshit." That's what Freddie Rah, the 29-year-old manager of Fresh Food Market Deli & Grocery in Lower Manhattan, has to say about Bodega, a Silicon Valley start-up that launched Wednesday.
Bodega is a reimagined vending machine: It's an automated, cash-free technology for the lobbies of offices, dorms, apartment buildings and gyms. It's meant to be stocked with the essentials, non-perishables like toothpaste, Cheez-Its, baking staples and laundry detergent.
Designed as a five-foot-wide box that can be opened with a mobile app, Bodega functions with a set of cameras that can register the products being removed from the shelf, and uses technology to charge users' credit cards instantaneously for the items they take. The company calls them "delightful automated stores that are only a few feet away and always stocked with what you need."
Critics tore into Bodega as soon as the story dropped. Fast Company's report, "Two Ex-Googlers Want to Make Bodegas and Mom-And-Pop Corner Stores Obsolete," made it easy for anyone to throw ammunition without needing to read past the headline.
Many took issue with Bodega's explicit appropriation of the word "bodega" itself, a Spanish term that loosely translates to cellar or pantry. And the company chose a cat as its logo, a nod to the beloved bodega cats that virtually every shop houses as its unofficial mascot.
Typically immigrant-run and -owned, sometimes passed down through generations, bodegas are central to New York communities: They're where neighbors meet for coffee and conversation, where night crawlers get a bite when nothing else is open and, hours later, where they find hangover-curing breakfast sandwiches and the morning paper. And they're where immigrants with dreams for better opportunities for their families often get their start.
"By installing this box in public, you basically let stores go out of business," Rah, the Italian-Lebanese store manager of a Fresh Food Market on Canal Street, said. He's worked at the bodega for about eight years, and considers it his life line. "It's my living. It's my kids' living. My future. My whole career is here. I feed my kids from here. It all comes from here."
During a weekday lunch hour, it seemed like Rah knew pretty much everyone who walked into the store. (He calls every person who comes "baby," affectionately.) This unique relationship is why Rah thinks Bodega can't match what stores like his do. He wonders how the boxes will thrive without human interaction and good communication — and how will people complain if there's something off with a product or they don't like the price?
"We treat customers as a family," he said. "So when we see them, it's not just buying a sandwich or buying a product, we talk to them." For Rah, cutting out human interaction isn't just bad business, it's bad behavior — and not one he plans to participate in. "Before I am a worker, I am a person, too. So I go shopping in other stores. I will never stop by this and buy — it's a box. By [automating], you have more people unemployed. And it's not just one person [who's affected]; that can ruin whole families," he said.
Angelo Beninati, the 32-year-old co-owner of Othello's Deli in Astoria, Queens, said his father has had the store for 30 years. "He's still technically the owner," he said, explaining that he wanted to work in the family business from the start. When asked what the bodega means to him, Beninati said, "That's a hard question, it's my whole life."
Adnan Mustafa, a former bodega owner who ran three corner stores for the past 41 years, doesn't see Bodega as a threat. "That's not gonna kick it," he said, explaining that people "love to see other people tending to them" and like to watch their food being prepared. His brother-in-law, Jamal Muhammad, 59, who manages Sunrise Deli in Yorkville and was pouring Mustafa coffee, agreed. "Most of the people, if you're making a sandwich, they like to watch you," he said.
Even in the case of non-perishables, "in this type of business, customer service means a lot," Mustafa said. He insisted that people seek out good personalities, and are willing to pay a little bit more for a better experience — as opposed to "talking to a box of metal or plastic or whatever it is." Muhammad, who's been working in the same neighborhood for close to 25 years, said he has a lot of regulars — people who come in every day for something to eat and a little conversation — and he can't imagine that being replaced by a box.
Rishav*, a cashier from Northern India, shared the sentiment, noting how customers in the neighborhood choose his spot — S&S Deli Grocery in the Upper East Side — over Dunkin' Donuts for coffee because of the experience. "They talk to us, we make jokes and all that stuff."
The 22-year-old said he doesn't believe people want to deal with a machine for the kinds of goods his shop sells — and plus, machines can break down or steal your money. "People like to interact with other people," he said, "I don't think this can be replaced."
"We already have a refrigerator," Amer Assaf, an employee at Park Place Gourmet Deli in Crown Heights, Brooklyn, said when he first thought the startup was trying to sell to current bodega owners. Upon learning the machines were meant for other kinds of spaces, Assaf shrugged it off. "It's a good idea and I like it. But it's not my business," he said, suggesting the company was irrelevant to him.
While Bodega's founders originally told Fast Company they weren't "particularly concerned" that their branding would come off as culturally insensitive, Bodega later published a post in effort to clarify the issues. "Like NYC's bodegas, we want to build a shopping experience that stands for convenience and ubiquity for people who don't have easy access to a corner store," the post reads. "Despite our best intentions and our admiration for traditional bodegas, we clearly hit a nerve this morning, we apologize."
*Subject's last name was withheld to allow him to speak freely.
Melissa Kravitz and Alex Orlov contributed to this story.
Sept. 14, 2017, 10:44 a.m.: This story has been updated.