Trump defends DACA recipients, but denies he reached a deal to protect them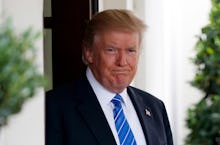 President Donald Trump on Thursday defended undocumented immigrants covered by the Deferred Action for Childhood Arrivals program, singing their praises and questioning why anyone would want to deport them.
"Does anybody really want to throw out good, educated and accomplished young people who have jobs, some serving in the military?" Trump tweeted Thursday morning. "Really!"
However, only minutes earlier, Trump used Twitter to deny reports that he struck a deal with Democratic leaders to protect those same DACA recipients: minors who either were brought to the United States illegally or overstayed their visas.
"No deal was made last night on DACA," Trump tweeted. "Massive border security would have to be agreed to in exchange for consent. Would be subject to vote."
After years of congressional inaction to pass a bill protecting that class of immigrants, former President Barack Obama created the DACA program to allow them to live and work in the U.S., so long as they met certain criteria. But Trump ended the program this month, saying DACA was an executive overreach.
Trump met with Senate Minority Leader Chuck Schumer and House Minority Leader Nancy Pelosi Wednesday night at the White House.
Schumer and Pelosi issued a statement after the meeting, saying they struck a deal with Trump to shield DACA recipients from deportation in exchange for border security funding. Schumer and Pelosi said that funding wouldn't cover costs for the wall.
"We agreed to enshrine the protections of DACA into law quickly, and to work out a package of border security, excluding the wall, that's acceptable to both sides," Schumer and Pelosi said in a joint statement.
Hard-line, anti-immigration Republicans like Rep. Steve King (R-Iowa) were enraged by reports that Trump may have struck a deal on DACA.
"Unbelievable! Amnesty is a pardon for immigration law breakers coupled with the reward of the objective of their crime," King tweeted after reading the reports.
"If AP is correct, Trump base is blown up, destroyed, irreparable, and disillusioned beyond repair," King added. "No promise is credible."