How political did New York Fashion Week get this season?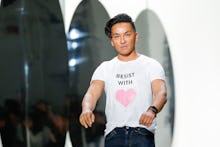 At New York Fashion Week back in February, political statements seemed to be everywhere. At shows like Naeem Khan, Christian Siriano, Prabal Gurung, Mara Hoffman and others, the runway was an opportunity for the designers to make their thoughts on the current political climate known.
Time was set aside during these shows for these moments. At the Hoffman show, the Women's March organizers spoke, for example. And at Khan's, the finale was a lone model walking to the sound of Maya Angelou reciting her poem "Human Family," which is about celebrating differences.
So it was natural to assume that this fashion week, with Trump's recent order to ban transgender troops and the stoking of white supremacists and neo-Nazis, that designers would continue to make their shows obviously political.
Steven Kolb, the president of the Council of Fashion Designers of America, which organizes NYFW, even thought before this week that fashion had an obligation to engage. At most shows, the CFDA laid out blue ACLU ribbons, similar to what they did in February, when they handed out Planned Parenthood pins.
"This year, particularly, as we are in a different political world, it was important for us to take the power of fashion, the stage of fashion week, and use that to align with issues that we and the industry support and believe in," Kolb said in an interview with Mic. "So that's how we started with Planned Parenthood in February, and the ACLU campaign this season."
But despite a heavy political climate, NYFW did not get nearly as overtly political as last season. Instead, we got quieter, more subtle statements, that you had to read between the lines to really see.
Last year, Christian Siriano, for instance, had a model wear a T-shirt down the runway that read "People are People." All profits from the sales of those T-shirts then went to the ACLU.
"I think for fashion designers, our only chance to get things out there is what we present on a runway or in our campaigns," Siriano said in an interview with Mic earlier this year. "All of our companies rely on immigrants and women and people of different cultures. Our entire business is filled with all those things and those people. We sell at retailers around the world. Designers have a big voice now. The consumer is very different now."
But this year, that shirt turned into a bag, with no real political statement otherwise.
It's a similar story for Prabal Gurung. Last season, his finale had every single one of his models in political T-shirts that read things like "We will not be silenced," "I am an immigrant" and "Love is the resistance."
This year, his backstage was filled with people in T-shirts that read "Stronger in Colour" and he himself wore one that read "Resist with" and then a pink heart, signifying love.
But none of his models appeared on the runway wearing the T-shirt.
Khan had no real, obvious political statement. Hoffman had no real, obvious political statement. Public School, which sent models down the runway in February with "Make America New York" hats, had nothing really either. Creatures of Comfort showed "We are all human beings" T-shirts in February, and showed nothing similar this time around.
The political statements that people did point out were far from obvious. Calvin Klein's show was a nod to American violence. Shows like Dia&Co and Torrid, with casts entirely made up of plus-size and curve models, felt political only because of Trump's lengthy history of making negative comments toward women who aren't thin.
Same goes for shows that were diverse in other ways, like Chromat, which had several trans models walk, and therefore felt political too. But there was absolutely no obvious gesture toward the Trump administration or political commentary.
This is not to say fashion has become disengaged with the political discourse heard throughout the country. We know plenty are, via their social media, with designers like Gurung and Khan and Siriano and McCharen-Tran of Chromat frequently posting about Trump's latest antics and their personal beliefs.
This week was merely a reminder that not everything has to get obviously political. These designers have a grand platform, yes, but maybe there's power in lifting some of these models and celebrating beauty and love, and not having to even mention his name. "All the political stuff that's going on is so horrible that this should be fabulous and fun and make women feel good," Siriano said in an interview with Mic before his show.
That, in and of itself, feels like resistance.