President Donald Trump on DACA deal with Dems: The wall needs to be funded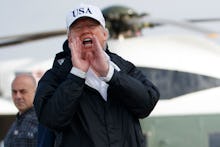 Shortly after President Donald Trump confirmed that support for his border wall would not be part of a bi-partisan plan to protect recipients of the recently rescinded Deferred Action for Childhood Arrivals program, he contradicted himself, telling reporters that Democrats would have to agree that the wall would be funded.
"We have to have an understanding... that the wall will be funded — otherwise, no deal," the president said in Florida on Thursday.
Just hours prior, Trump told reporters that the deal he struck with Democratic leaders did not include funding for the border wall.
"The wall will come later," Trump told reporters while leaving the White House for Florida.
The president's comments in Florida are the latest confusing turn in the clamor to determine what took place in a Wednesday evening between Trump and Democratic congressional minority leaders Rep. Nancy Pelosi and Sen. Schuck Schumer.
Shortly after that meeting took place, Pelosi and Schumer issued a joint statement on their "very productive dinner" with Trump, announcing that they and the president had had reached a bipartisan agreement on immediate protections from deportation for DACA recipients, as well as a border security package that did not include funding for the president's proposed Mexican border wall.
"We agreed to enshrine the protections of DACA into law quickly, and to work out a package of border security, excluding the wall, that's acceptable to both sides," Pelosi and Schumer said of their meeting with the president.
Following a swift conservative backlash to the announcement, the White House issued a statement that contradicted the Democrats' readout of the meeting.
"While DACA and border security were both discussed, excluding the wall was certainly not agreed to," White House Press Secretary Sarah Huckabee Sanders tweeted late Wednesday.
In a series of Thursday morning tweets, Trump bolstered the White House narrative on the meeting between him and the Democrats.
"No deal was made last night on DACA. Massive border security would have to be agreed to in exchange for consent. Would be subject to vote," the president said on Twitter. "The WALL, which is already under construction in the form of new renovation of old and existing fences and walls, will continue to be built."
Though Trump's comments to reporters just before leaving for White House Thursday morning seemed to undercut his press secretary, his most recent comments upon arriving in Florida bolsters the White House narrative on the president's meeting with the Democratic leaders.
When news of the agreement first broke, the backlash from conservative immigration hardliners was swift and intense. Rep. Steve King claimed the damage caused by Trump demurring on a key promise to his base would be irreparable — and that the president's supporters would no longer have any reason to trust anything he says.
"If [the news] is correct, Trump base is blown up, destroyed, irreparable, and disillusioned beyond repair. No promise is credible," King tweeted.
Right-wing pundit Ann Coulter suggested it was time for conservatives to join some on the political left in calling for Trump's impeachment.
An unnamed editor at conservative outlet Breitbart News told the Washington Post that Trump's concession to Democrats on DACA recipients and wall funding was nothing short of a betrayal.
"This a betrayal of the highest order. Donald Trump should be ashamed of himself," the staffer said.
September 14, 2017 11:11 a.m.: This story has been updated.