Snapchat's new augmented reality Bitmoji avatars are a blast to play with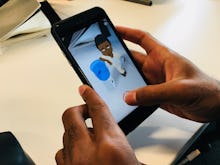 Apple's iPhone X event on Tuesday turned the tech world's attention to augmented reality. Now Snapchat is showing us just how fun it can be.
Snap Inc. is rolling out 3-D, animated Bitmoji avatars on iOS. Similar to Snapchat's hot dog lens, users can place their personalized Bitmoji on a surface in front of them. They do yoga, watch a movie, sip on coffee and more.
To summon your Bitmoji, tap and hold on the screen while the rear camera view is open. Filters will appear near the shutter button. Swipe through these to unleash your Bitmoji.
Some users haven't gotten the new Bitmoji yet, so if you don't see it, just hang tight. Soon you'll be able to show off funny scenes like the one above or this one below.
After recording your 3-D Bitmoji video, users can swipe left and right on the screen to access color filters to make their avatar pop, change the speed of the video or access location-based filters. For the privacy-minded, there's good news: Snapchat's 3-D Bitmoji work even if you've denied the app access to your location.
Snapchat acquired Bitmoji in March, and the app has deeply integrated the cartoon avatars into its service, from profile photos to messages. If two users of the service both have Bitmoji, the two animated avatars can appear in the same image.
The update will make its way to iPhone users running the latest version of Snapchat — and is coming soon to Android.