Trump's base bashes "Amnesty Don" as president issues confusing statements on immigration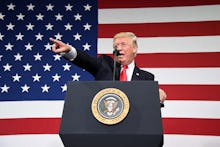 President Donald Trump is eating jabs from those who enthusiastically backed his hardline immigration policies as he negotiates with Democrats seeking to protect Dreamers, with Breitbart — the alt-right mouthpiece operated by his former chief strategist Steve Bannon — dubbing him "Amnesty Don."
Trump met Wednesday evening with Democrats Nancy Pelosi and Chuck Schumer — with whom he struck a deal on Sept. 6 to raise the debt limit — over recipients of the Deferred Action for Childhood Arrivals program and appeared to have reached an agreement.
But Trump tweeted Thursday morning that no such deal on DACA recipients had been made, saying that "massive border security" would need to be part of any measures concerning DACA recipients.
What has followed has been a series of confusing, and at times contradictory, messages out of the administration.
While leaving the White House for Florida, where he is surveying damage from Hurricane Irma, Trump said that the "wall will come later." But by the time he landed, he said the opposite: "We have to have an understanding ... that the wall will be funded — otherwise, no deal."
Still, the administration's insistence that "no amnesty" will be given to undocumented immigrants may not be enough to assuage the frustrations of the immigration hardliners in his base.
Right wing troll Ann Coulter lashed out against the president in a series of tweets Thursday, suggesting that she wants him impeached.
Rep. Steve King (R-Iowa), who has called immigration "cultural suicide by demographic transformation," said on Wednesday evening that Trump's base would be "destroyed" by a DACA deal and that he could no longer trust the president if he softened on immigration.
And Breitbart, a reliably pro-Trump outlet, ran stories saying that the president had "caved" to Democrats on immigration, even obtaining a quote from Kris Kobach — one of the leaders of Trump's voter fraud panel — criticizing the president's deal-making ability.
Even Sean Hannity — Trump's biggest cheerleader at Fox News — laid into the president, tweeting that "it's over" if he doesn't "keep his promises."
Amid the far-right backlash, Trump both vowed to help the "good, educated and accomplished young people" who benefitted from DACA and talked tough on the need for "BIG" border security.
The mixed messages may underscore the difficult political position the president finds himself in as he attempts to appease both a base that wants him to follow through on his fiery campaign promises on immigration and a broad majority of Americans who want a path to citizenship for DACA recipients.
Schumer on Thursday said he'd agreed to the "framework" of a DACA deal with Trump, while House Speaker Paul Ryan said that "no agreement" had been reached.
The Trump administration announced Sept. 5 that it would end DACA, former President Barack Obama's program protecting the children of undocumented immigrants from immediate deportation, in six months, describing it as an "amnesty-first" program.
"It is now time for Congress to act!" Trump said in a statement.
Democrats and some Republicans have pushed to pass the DREAM Act and provide a path to citizenship for people brought to the United States as children by undocumented parents, while Trump has said that the top priority for any immigration reforms must be "to improve jobs, wages and security for American workers and their families."