Lululemon taps a group of diverse activists and LGBTQ trailblazers for its first campaign for men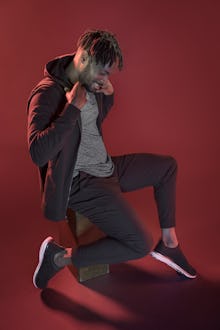 Before now, if you thought of the brand Lululemon, images of thin, conventionally attractive white women hiking through the Hollywood Hills or a preppy, on-the-go mom may have popped into your head. But as of late, Lululemon is getting deep — and far more diverse.
For the brand's first global campaign for men called "Strength to Be," which celebrates the launch of its new menswear collection, they're shaking things up a bit, tapping a trailblazing group of guys to tell their stories about their own definitions of masculinity and how they found the strength to be themselves.
"Now is a great time to expand our focus from the traditional business and turn toward having a unique conversation with men," Lululemon's men's brand director Karl Aaker said in an interview. "It's something we're deeply passionate about as a company. Now felt [like] a really great time to bring this conversation forward."
In the campaign itself, there's Ibn Ali Miller, who went viral after breaking up a fight between two Atlantic City High School students and now spreads a message of nonviolence.
There's Olympian Orlando Cruz, who made history as the first professional boxer to come out as gay.
There's John Joseph, a singer and triathlete who came from an abusive foster care system, and Mark Healey, a surfer and environmental activist.
And there's Zebra Katz, an out New York City-based hip-hop artist who's inspired by voguing and ball culture and even created a unisex clothing line earlier in 2017.
These men come from entirely different walks of life and are passionate about entirely different things, and yet star in this campaign because Lululemon thinks they have an important story to share. In addition to campaign images, Lululemon will be releasing short films focusing on each model's story.
As far as how they decided whom to feature, Aaker said it was all about finding guys who had varying tales to tell about their journeys to self-confidence. "We were wanting to highlight a diverse set of perspectives to this story and this idea of masculinity," Aaker said. "These five guys provide an avenue to a broader audience and this idea of self-confidence and the confidence to be who you are."
Ultimately, the message Lululemon wanted to get across in its "Strength to Be" campaign is there is no one way — or wrong way — to get to this incredibly important point of accepting and loving who you really are.
"'Strength To Be' was our articulation of it," Aaker said. "It's about really, truly supporting the conversation of honesty of self, or trying to support people finding the confidence to care about what defines them. Regardless of [whether] they're male or not, it's something that we try to live by culturally. That message of self-confidence and the awareness to be truly yourself that takes many different forms."
You can watch the first Strength to Be film featuring Ibn Abi Miller below: