Derricka Banner is at least the 20th transgender person killed so far in 2017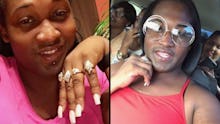 Derricka Banner, 26, became at least the 20th transgender person killed so far in 2017 when she was found fatally shot in a vehicle early Tuesday morning in Charlotte, North Carolina.
Banner also went by the name "Ms. Bow Bow," according to posts on social media by friends. Banner, originally from New York, was a resident of Lenoir, North Carolina. Banner's family did not respond to requests for comment Thursday morning.
Eighteen-year-old Charlotte resident Montavious Sanchez Berry was arrested Tuesday and charged in Banner's murder, the Charlotte Observer reported, citing information from the Charlotte-Mecklenburg Police Department. As of Wednesday, the investigation was still ongoing.
Banner's death comes just before Charlotte is set to host North Carolina Trans Pride 2017, an event organized by and for the state's trans community. According to posts on the event's Facebook page, organizers planned to honor Banner, along with other transgender victims of violence, in a "community altar space."
Like Banner, almost all of the trans people killed in 2017 have also been people of color.
Trans people face disproportionate levels of violence, as Mic has previously reported. A 2015 survey by the National Center for Transgender Equality found respondents experienced violence and harassment at "alarmingly high rates."
Nearly one in 10 respondents reported being physically attacked because of their gender identity in the year prior to completing the survey, while 46% said they had been verbally harassed over the same time period.