Hillary Clinton recommends a picture book to Donald Trump, after he pans her new memoir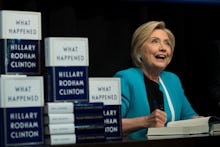 President Donald Trump did not have kind words for Hillary Clinton's new memoir, reprising his "Crooked Hillary" nickname to say that her book "blames everybody (and everything) but herself for her election loss."
"She lost the debates and lost her direction!" Trump said of Clinton's new book.
Clinton responded with a jab, recommending he pick up the picture book she wrote for children, a clear knock at reports that Trump doesn't read books.
"If you didn't like that book, try this one — some good lessons in here about working together to solve problems," Clinton said, attaching a photo of her book It Takes a Village. "Happy to send a copy."
"It Takes a Village tells the heartwarming and universal story of a diverse community coming together to make a difference," according to the publisher's description. "All kinds of people working together, playing together and living together in harmony makes a better village and many villages coming together can make a better world."
The picture book is an adaptation of another book she wrote, in 1996, when she was serving as first lady.
Also titled It Takes a Village, that book is about raising children and her vision for how to make the lives of children better.