Poll: Mexican opinion of US takes big hit in the age of Trump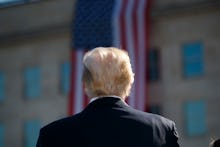 Mexicans' views of the United States and confidence in its president have declined dramatically during the Trump era, according to a new poll by the Pew Research Center.
In a survey of 1,000 Mexican respondents, 65% expressed a negative opinion of the U.S. — more than twice the 29% of those who said the same thing in 2015, the year Donald Trump announced he was running for president.
Further, the poll showed a staggering 93% of Mexicans no longer have confidence in the U.S. president to "do the right thing regarding world affairs," compared to just 5% who did.
"America's poor image transcends political ideology," the researchers wrote. "Mexicans from the political right, left and center all have similarly negative views of the U.S."
This sharp shift in views of the U.S. among its neighbors to the south corresponded with the rise of Trump, who kicked off his presidential campaign by calling Mexican immigrants "rapists" and has continued to call for the building of a border wall between the two countries since assuming office.
Trump has also repeatedly threatened to pull out of the North American Free Trade Agreement, which 60% of Mexicans polled by Pew said they support.
Trump has frequently used racially charged language about Mexicans and Mexican-Americans during his unlikely rise to power, attacking a judge for his "Mexican heritage," calling for the deportation of what he called "bad hombres" and — in a tone-deaf Cinco de Mayo tweet — writing "I love Hispanics!" underneath a picture of himself eating a taco bowl.
Trump has also governed as an immigration hardliner, seeking to ramp up deportations while ending Obama-era programs protecting some undocumented immigrants. This includes the Deferred Action for Childhood Arrivals program, which prevented an estimated 800,000 children of undocumented immigrants from deportation since 2012.
He's also continued to push for a wall along the U.S.-Mexico border, something he has insisted Mexico would pay for — even though he seemingly knew that was not possible, according to transcripts released in August of a phone call between Trump and Mexican President Enrique Peña Nieto.
"My position has been and will continue to be very firm saying that Mexico cannot pay for that wall," Peña Nieto told Trump in the early days of his presidency.
"You cannot say that to the press because I cannot negotiate under those circumstances," Trump replied. "If you are going to say that Mexico is not going to pay for the wall, then I do not want to meet with you guys anymore because I cannot live with that."
Nevertheless, Mexico offered aid to Texas after the southern part of the state was devastated by catastrophic floods in the wake of Hurricane Harvey. But the government rescinded the offer after Hurricane Katia pummeled the nation — and Trump failed to offer timely and customary condolences to the 96 people killed and 2.5 million left in need of aid by an 8.2 magnitude earthquake.
Trump tweeted Thursday that he had just spoken with Peña Nieto, blaming the delay on bad cell phone reception on the part of his Mexican counterpart.
Pew conducted its poll of 1,000 Mexicans between March 2 and April 10, well before the earthquake and Trump's revocation of DACA.
Researchers found it wasn't just that Mexicans' opinions on the U.S. have cooled since 2015. According to the Pew poll, 42% now view the U.S. "very unfavorably," up from 6% two years ago.