Conservative media unifying around backlash to Jamele Hill's comments on Trump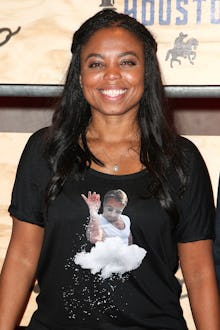 For conservative media, the controversy surrounding ESPN Sports Center host Jemele Hill's comments on President Donald Trump has been a major point of focus and unity.
Although ESPN quickly denounced Hill's statements calling Trump a "bigot" and "white supremacist," saying her comments "do not represent" ESPN, the incident has become a rallying cry for many on the right seeking for Hill to be fired.
On Wednesday, press secretary Sarah Huckabee Sanders, when answering questions from reporters, called Hill's remarks "outrageous" and said they were a "fireable offense."
Hill's comments and ESPN's response were splashed across conservative media this week, and ex-ESPN employees who were fired were touted as evidence of a double standard that indicates executives have taken uneven punishment after hosts have made political statements, and that there was a media-wide crackdown on conservatives.
"Mike Ditka, Curt Schilling, Craig James and other conservative employees were almost instantly fired for far less inflammatory statements," a Breitbart article read.
Schilling, who now works for Breitbart, was terminated from ESPN in 2016 after he shared transphobic images on his Facebook account. Before 2016, Schilling had a long history of being reprimanded by the company for posting various incendiary remarks and images. Schilling appeared on Fox News Wednesday night to call Hill a racist for calling Trump a white supremacist.
Ditka was never fired by ESPN. In 2016, he stopped hosting Sunday NFL Countdown for another role at the network, saying that the travel the hosting job required was becoming too much for him and that he was happy about the change. Despite Ditka's comments, conservative media speculated at the time that it was due to Ditka's conservative views, and because Ditka had criticized then-President Barack Obama in an interview.
James was also never fired by ESPN. He was fired by Fox Sports, which he alleged in a lawsuit was because of his opposition to same-sex marriage. Fox Sports disputed those allegations, and the case was settled in 2016.
Other outlets pointed to reports that SportsCenter host Linda Cohn was sent home for a day after she said ESPN's business was suffering because it had waded into political issues.
Right-wing criticism of ESPN being a part of the "liberal" media has been a talking point since 2014, as BuzzFeed reported, when the sports channel covered then-football player Michael Sam, the first openly gay player to be drafted into the National Football League.
That perception has persisted among conservatives ever since, and has been reignited, especially after Caitlyn Jenner, a transgender woman, received the ESPY's Arthur Ashe Courage Award in 2015. Conservative ESPN fans have also expressed anger at the network's coverage of Colin Kaepernick and his political protests in and out of the NFL.
ESPN in 2016 issued a new social media policy to try to crack down on politically heated controversy. Those guidelines included telling staff to "refrain from political editorializing, personal attacks or 'drive-by' comments regarding the candidates and their campaigns (including but not limited to on platforms such as Twitter or other social media)," according to a memo.