John Legend has no time for this toxic masculinity BS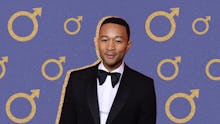 He's taken on President Donald Trump. He's taken on Donald Trump Jr. He's taken on Piers Morgan. And now, John Legend is facing down his latest foe: toxic masculinity at large.
It's a topic Legend — who, on shows like HBO's Insecure, is name checked as the gold standard in male sensitivity — is not afraid to speak out on. His end goal? To open up a dialogue on this socially constructed attitude perpetuated throughout culture.
"You have these definitions of what a stereotypical man is supposed to do," Legend said in an interview. "He's probably stronger and faster, and he gets all the girls; he's athletic, he's dominant and he's powerful and all these other things. And there are a lot of guys that don't fit that definition."
Toxic masculinity versus, say, inclusive masculinity, is the socially constructed norm that often force men to act out in certain ways in an effort to adhere to gender as a role. It often rears its stigma throughout parts of culture you'd never expect.
Take The Great British Bake Off contestant Norman Calder, who was told "it's just a bit bold and a bit fat and a bit big," by judge Mary Berry when she was critiquing his black forest Swiss roll during a season five episode. "It's for men," Calder responded, implying that a more timid, thin or small cake would be better served for a woman.
This sort of rhetoric is not new. A season three episode of Friends famously found Ross trying to convince his young son Ben to stop playing with his Barbies and instead play with a GI Joe. It's these subtle commentaries that effectively perpetuate a patriarchal sense of the world.
But it appears in more obvious ways as well, with the bro-ification of supermarket aisles (see: Brosé, brogurt) as well as products like sunscreen and detergent being designed explicitly "for men." Antiquated expectations for what it means to be a man are reinforced in everyday life. This unnecessary gendering serves to reinforce outdated gender roles, by masculinizing a product in order to make it seem more accessible for men.
"I think it's everywhere," Legend said. He continued:
"I think it's in the media, it's in advertising, it's in movies. And then it's in the way you interact on the playground and the way you talk about sex as, like, a 14- or 15-year-old, and the way you talk about sports or the way you talk about violence, fighting and all these other things. All these conversations create expectations and pressures on young boys and girls about how they are suppose to perform ... If we put all these constraints around what it means to be a man, then we are limiting the creativity and the potential of all these young people that are growing up and trying to figure out who they want to be."
The impact of such engrained behavioral conditions are clear. According to a study conducted by Promundo for Axe/Unilever in March, men who feel pressure to conform to masculine stereotypes are more likely (54%) to report having perpetrated sexual harassment against a female compared to men who don't identify feeling the burden of acting masculine. That's not all. Eighty-one percent of guys said feeling pressure to conform to masculine stereotypes often results in them turning to bullying.
The issue matters a lot to Legend, who — with a sponsorship from Axe — developed a high school program at Centennial High School in Columbus, Ohio, near his hometown. Below, Mic sat down with Legend to discuss the role toxic masculinity has played in his life — and his message for young men everywhere: