Trump condemns "loser terrorist" in London subway attack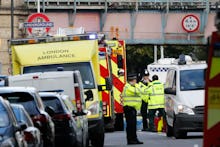 President Donald Trump condemned what he called a "loser terrorist" after an incident was reported on the London subway, which left more than a dozen people injured.
"Another attack in London by a loser terrorist," Trump tweeted. "These are sick and demented people who were in the sights of Scotland Yard. Must be proactive!"
Trump's comments came shortly after the attack was reported — much faster than his comments on the white supremacist who intentionally rammed his car into a group of peaceful protesters in Charlottesville, Virginia, last month, killing one and injuring several others.
At the time, Trump said he hadn't commented on the Charlottesville attack because he needed to "know the facts" before calling out the attacker.
"I wanted to make sure, unlike most politicians, that what I said was correct, not make a quick statement," Trump said at a news conference, defending his slow response.
Nick Timothy, a former chief of staff to British Prime Minister Theresa May, called Trump's comments on the attack before more information was reported "so unhelpful."
"True or not — and I'm sure he doesn't know — this is so unhelpful from a leader of our ally and intelligence partner," Timothy tweeted.
Trump went on to use the London attack to push his political agenda.
"The travel ban into the United States should be far larger, tough and more specific — but stupidly, that would not be politically correct!" Trump tweeted. Federal courts had blocked portions of Trump's travel ban, saying it was discriminatory.