At just 16 years old, Natalie Nootenboom made made plus-size history at New York Fashion Week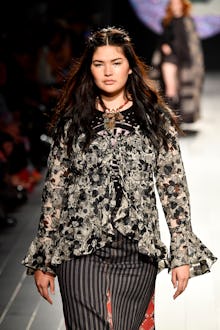 At just 16 years old, Natalie Nootenboom has already made history, by becoming the first curve model to ever walk in the Anna Sui show at New York Fashion Week, sharing the runway with top models like Bella and Gigi Hadid.
"It was amazing, really amazing," Nootenboom, who's niece to DJ Steve Aoki and model Devon Aoki, said in an interview. "I felt like I was in another time, really. Those clothes, they bring you to anther time, so I was like, wow, I'm breaking through, this is what I've been fighting for. It was such a fun energy in the show, and insane being around people like Gigi and Bella Hadid."
Nootenboom is of the generation lucky enough to grow up seeing models who are plus-size and curve truly succeed, like Ashley Graham and Marquita Pring. But even still, Nootenboom, who's a size 12 and signed to MUSE model management, had her doubts about whether or not she would be suited for this industry.
"There was one point in my life when I thought, 'Modeling is my destiny,'" Nootenboom said. "But when I talked to my sister [the model Yumi], she told me that when she was first in the industry, people were like, 'You either have to gain weight to be a plus-size model, or lose weight.' And I was like, well, I don't want to do that, so maybe I should give up my dream. And then I just realized, 'you know what, what if I could be the first?' There's very few Asian plus-size models to represent us, so why shouldn't it be me?"
Nootenboom takes her role as a trailblazer in the industry seriously, as one of the very few curve Asian models out there. She's already seen herself how her presence on runways and in campaigns, for companies like Charlotte Russe and brands like her uncle Steve's Dim Mak Collection, has impacted other people's lives.
"I get a lot of messages from plus Asian women, or Asian women in general, and they say they feel caged by cultural standards, and they're so glad to see me working, because they're being represented," Nootenboom said. "Entertainment is such a powerful force. We don't have to be in this one mold."
Being the first curve model to do anything in fashion doesn't come without some uncomfortable moments though, like when Nootenboom arrived to prep for Sui's show.
"It was a little bit strange for me, because when I walked in they assumed I was part of the crew, because they had never seen a plus model for Anna," Nootenboom said. "It was definitely uncomfortable at first, but once I was backstage, it was an amazing moment, because I just carried the hearts of the plus-size and Asian plus-size community, and I thought, 'I'm here to break through.'"
As for how more designers like Anna Sui, who aren't known for incorporating size diversity in their shows and campaigns, can finally be convinced that including models like herself is important, she thinks it's all about speaking up.
"It's not a world full of straight-sized women and men," Nootenboom said. "There's 8 through 12, or plus size. The more that people speak up and say, 'Hey how come high fashion brands aren't representing all of us equally?' the more they'll pay attention to it. I feel like when there's more high demand and the customer is speaking their mind and saying that they want the industry more open-minded, it's like a chain reaction from there."
Even with just this one show behind her, Nootenboom, who said she'd love to walk for size-inclusive designers like Prabal Gurung and Christian Siriano in the future, already has her sight set on making more history as a model.
"I want to be remembered as someone that changed how the industry works," Nootenboom said. "I want to be the first plus-size model to walk many different shows, and stand for the minority. If you feel like you could never be a model, then I'm proof that you can. Everyone is good enough."