Trump is rapidly nominating federal judges. Democrats are facing more pressure to not confirm them.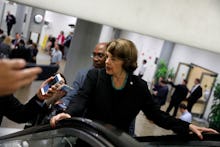 Welcome to Mic's daily read on Donald Trump's America. Want to receive this as a daily email in your inbox? Subscribe here.
Every day, we bring you a different dispatch on Trump's America. Today's focus: Trump's judges.
Friday's Dispatch: How Trump is trying to shape federal courts — and the pressure to stop him
The image above — a Democratic senator, at right, giving a Republican a birthday cake — is critically important to the future of law in America.
Sen. Dianne Feinstein (D-Calif.) maintains a strong relationship with Sen. Chuck Grassley (R-Iowa), whose birthday Feinstein celebrated on Thursday by giving him a cake.
That friendship between Grassley and Feinstein is key to the Trump administration's push to rapidly reshape America's judicial system. They are the top senators on the Senate Judiciary Committee, which reviews presidential judicial nominees.
Trump began his term with a federal judiciary dominated by judges appointed by Democratic presidents, including Barack Obama, Bill Clinton and Jimmy Carter. But by filling all judicial vacancies, Trump could make the number of federal judges appointed by a Republican exceed the number appointed by a Democratic president.
Trump often cites the confirmation of Supreme Court Associate Justice Neil Gorsuch as a key achievement. He's also moving aggressively on the lower courts: 45 nominees are pending before the Senate for 144 judicial vacancies.
Along with Gorsuch, five other federal judges nominated by Trump have been confirmed.
That's not unprecedented, says Russell Wheeler, a Brookings Institution scholar who tracks judicial appointments. But Trump's rate of nominations is without equal, he said, adding, "I don't think Bill Clinton had nominated anyone by September [in the first year of his presidency]."
Trump's opponents argue nearly a fifth of federal judgeships are vacant because of Republican obstruction during Obama's presidency. Democrats, like Feinstein, should be just as dysfunctional as the GOP was under Obama to block Trump nominees, they say.
In 2013, Republican opposition to Obama's judges led then-Senate Majority Leader Harry Reid (D-Nev.) to remove the 60-vote threshold necessary to confirm judicial nominees. When Republicans won control of the Senate in 2014, they slowed confirmation of Obama's judicial nominees to a near halt.
Progressive organizations like CREDO and Democracy for America attracted more than 350,000 signatures on online petitions calling for Grassley and Feinstein to slow approval of Trump-nominated judges.
"We don't expect Feinstein, alone, to stop these appointments. But you can slow them down," Charles Chamberlain, executive director of Democracy for America, told Mic after delivering those signatures on Thursday in Washington.
"She's been a disappointment to Californians," added Josh Nelson, deputy political director at CREDO. His organization has more than 50,000 signatures on a petition calling for Feinstein to be removed as the judiciary committee's ranking member.
On Thursday, the judiciary committee advanced four of Trump's judicial nominees toward a vote by the full Senate. Democrats, particularly Feinstein, vocally resisted one of the nominees.
That's not enough for some. "At a time when our state is leading the resistance to Trump, Californians deserve a progressive fighter who will stand up to Trump in Washington, as well," Joseph Sanberg, a wealthy California entrepreneur who is considering mounting a primary challenge against Feinstein, said in a statement to Mic.
Given Democrats are in the minority, Feinstein says she's doing all she can to oppose the nominees. She has resisted ending the "blue slip" policy. For decades, senators have signed a blue piece of paper to signal their approval of a judicial nominee to a federal court in their state.
Senate Majority Leader Mitch McConnell (R-Ky.) said earlier this week the Senate should end the policy after multiple Democrats said they would not return "blue slips" on Trump-nominated judges in their states. Republicans used "blue slips" to stall dozens of Obama judicial nominees; now they want to avoid Democrats doing the same.
"The purpose of the blue slip is to ensure consultation between the White House and home-state senators on judicial nominees from their states," Feinstein said in a statement earlier this year. "If a nominee does not receive blue slips from both senators, the committee should not move forward."
The stakes for this fight are high. With Trump facing challenges in court over executive orders and rolling back Obama's actions, federal judges will play a role in deciding which policies survive. And because these appointments are for life, the lasting impact on American law will be felt for decades.
Today's question: The story of Trump rapidly nominating conservative judges to fill vacancies has been little noticed. Do you agree? If so, why do you think that is? If not, why?
Friday in Trump's America:
New overnight: An explosion on the subway in London injured several people and is being treated as a terrorist attack.
Trump, in a tweet, condemned the "loser terrorist" in London and said British authorities should have apprehended the alleged bomber before the attack. He also said he has made more progress against ISIS than Obama made in eight years.
The New York Times reported Attorney General Jeff Sessions offered to resign in May after being verbally berated by Trump over the appointment of a special counsel in the Russia investigation. Two weeks ago, the Times reported Trump did something similar with Chief of Staff John Kelly.
Trump is increasingly open to long-term deals with Democrats, Politico reported, after a back-and-forth that left conservatives exasperated that Trump was offering amnesty to immigrants and not demanding a border wall.
Trump's border wall is far from being built, let alone planned, NBC News reported.
Trump doubled down further Thursday night that "both sides" were to blame for violence in Charlottesville, Virginia. Sen. Tim Scott (R-S.C.), the only black Republican in the Senate, said after meeting with Trump to discuss U.S. race relations that "antifa" and "white supremacists" are not equal.
Facebook enabled advertisers to reach "Jew haters," allowing several anti-Semitic advertising categories, ProPublica found. Hillary Clinton said Facebook needs to own up to the role in had in shaping the 2016 presidential election result.
North Korea launched another missile test that sent a rocket over Japan for the second time in two weeks, a response to harsher international sanctions.
Today's MicBite:
Obama announced the inaugural leadership summit his foundation will host in Chicago. Tap or click below to watch the video to learn more.