Trump: ESPN should 'apologize' after Jemele Hill comments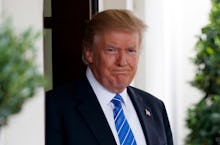 President Donald Trump on Friday slammed ESPN in the wake of remarks made by one of the channel's hosts that were critical of the president.
"ESPN is paying a really big price for its politics (and bad programming)," Trump tweeted Friday morning. "People are dumping it in RECORD numbers. Apologize for untruth!"
The remarks come after conservative backlash to the channel following SportsCenter co-host Jemele Hill called Trump a "bigot" and a "white supremacist" in a string of tweets. On Wednesday, White House press secretary Sarah Huckabee Sanders called the remarks a "fireable offense."
ESPN has issued two statements about the remarks, first saying that the remarks "do not represent" the channel. And Hill on Wednesday night issued a statement of her own, saying that she was sorry about how the remarks "painted ESPN in an unfair light." ESPN has said it accepted Hill's apology.
Hill has not apologize for the sentiment in the tweets, and many people on and off the network have come to her defense.
Conservatives and Trump supporters have expressed outrage for the remarks, and have called on Hill to be fired. To them, the statements have been used as evidence of ESPN's supposed liberal bias. Many of those conservative outlets have pointed to other instances of ESPN firing or suspending hosts for expressing conservative points of view as evidence of a double-standard.
On Thursday night, ThinkProgress reported that ESPN planned to keep Hill off the air Wednesday night and replace her with another black host. Those plans were scrapped, though, because the two hosts ESPN sought to replace Hill with refused to fill in for Hill, according to the report. (ESPN has disputed that account.)
As for Trump's claims, there is little evidence that ESPN is "paying a really big price for its politics (and bad programming.)" As the Atlantic reported in May, the number of homes ESPN appears in has declined year over year, and it has gone through rounds of layoffs, but that is due more to a decline in cable subscriptions in general than because of a sustained opposition to any perceived political leaning.
Based on how cable bundles work, people unhappy with ESPN would have to cancel their entire cable subscription (or sign up for a smaller plan with fewer channels, excluding ESPN) to have a major effect on the channel, which relies on subscription fees more than it relies on advertising dollars.
"It's mostly silly to blame politics for ESPN's financial decline," Atlantic senior editor Derek Thompson wrote then.