Jewish women targeted in Islamophobic attack in Queens subway station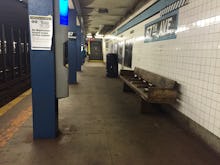 A 40-year-old man allegedly attacked two women in a Queens, New York, subway station Wednesday, apparently assuming the Orthodox Jewish women were Muslim.
Dimitrious Zias, who was reportedly intoxicated at the time, approached the 57- and 37-year-old mother and daughter as they were walking up the stairway after disembarking the R train at 67th Avenue, the New York Police Department confirmed in an email. The incident took place Wednesday afternoon at 2:00 p.m.
According to police and prosecutors, Zias was walking behind the women, and as they waved him to go past them, he reportedly said, "Go back to your fucking country you dirty Muslims," DNA Info reported.
Zias then reportedly assaulted the daughter, punching her in the face and grabbing her hair. When the mother tried to intervene, Zias "made a racist statement, and punched her several times in the face," according to the NYPD.
Though no major injuries were reported, both women suffered bruising as a result of the attack, and the daughter told the New York Daily News that the incident had aggravated her lupus.
The women were likely assumed to be Muslim because of a head covering the mother wears as part of her Orthodox Jewish faith, the daughter said in an interview with the Daily News.
Officers arrested Zias at the subway station, where he reportedly asked, "I don't understand why I'm being arrested. Is it because I'm rich and white?"
Zias has been charged with assault as a hate crime, the NYPD confirmed. According to DNA Info, he is currently being held on $50,000 bail and is due in court on Sept. 27. This would be Zias's second offense, after previously being sentenced to five years probation for unlawful surveillance after getting caught taking pictures under a woman's skirt in 2015.
The Queens subway attack was one of two anti-Islam hate crimes to take place in NYC on Wednesday, the Daily News reported, as a 53-year-old Muslim vendor was punched in the back of the head and told to "go back to your country" in Bushwick, Brooklyn, after being unable to make change for a $20 bill.
The two incidents are part of a broader increase in hate crimes in New York City, even as the city's overall crime rate continues to decrease. According to the Daily News, 280 hate crimes had been reported as of Sept. 10, compared with 211 in 2016, with 31 incidents this year targeting Muslim victims.