While You Weren't Looking: 5 political stories from the week that didn't strike deals with Democrats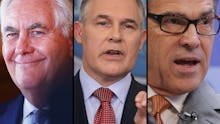 This week President Donald Trump grabbed everyone's attention by flirting with the idea of brokering an immigration deal with Democrats, then going back and forth over the details. But while the president plays 12-dimensional chess with himself, the rest of his Cabinet was hard at work shaping policy.
Here are five big stories from the Trump administration this week.
EPA reconsiders coal ash regulations
The Environmental Protection Agency will revisit Obama-era regulations for the treatment of toxic coal ash, a toxic byproduct created when coal is burned at power plants. In 2015, the Obama administration put in place regulations for the disposal of coal ash to ensure that it did not poison drinking water supplies or local communities.
But industry groups that pushed back against the regulations found a sympathetic ear in EPA administrator Scott Pruitt who said in a statement Thursday that he has decided to reconsider the regulations.
The agency emphasized that it has not made a final decision on what changes, if any, will be made.
Rick Perry parts with White House on oil reserve policy
On Friday, Energy Secretary Rick Perry publicly came out against the Trump administration's policy of wanting to use America's Strategic Petroleum Reserve, or SPR, to bolster the federal budget.
Asked about hurricanes Harvey and Irma, Perry told reporters, "I think this is a good example of why we need a SPR."
The statement put him at odds with the position of his boss who proposed selling off a large portion of the SPR in order to fill gaps in the budget.
"I didn't write that budget," Perry said. "I'm a big believer that it makes sense for us to have a Strategic Petroleum Reserve."
State Department restricts visas to countries that don't comply with deportation policy
The State Department will stop granting certain types of visas to people from four African countries because of those countries' failure to comply with U.S. deportation policy.
According to Reuters, some citizens of Eritrea, Cambodia, Guinea and Sierra Leone will no longer be granted a wide variety of visas to enter the United States because the governments of those nations have either delayed or been unwilling to accept immigrants the U.S. is trying to deport to those nations.
Justice Department refuses to turn over Mar-a-Lago guest list despite court order
The Justice Department may have violated a federal court order by refusing to turn over a complete list of visitors to Trump's Mar-a-Lago estate. The watchdog group Citizens for Responsibility and Ethics in Washington, or CREW, filed a lawsuit against the Trump administration in April, in which it requested access the Mar-a-Lago visitor logs.
In July, a federal judge ordered that the Trump administration turn over those records by September.
On Tuesday CREW received an incomplete list of 22 names, all of whom were members of the Japanese foreign delegation that visited the president earlier this year.
CREW vowed to respond to the affront in court.
Trump reportedly considers "mini-nukes"
Trump may soon propose relying on smaller tactical nuclear weapons, according to a report in Politico. The weapons would cause less damage than traditional nuclear weapons, but also increase the odds of nuclear war given their relative ease of deployment.
Approval of any new form of nuclear missile would be a dramatic departure from the Obama administration's position of limiting America's reliance on any form of nuclear weapon.