Small business owners struggle to bounce back after Hurricane Irma and Harvey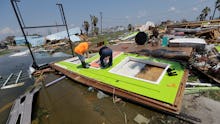 Tampa Bay-based developer and restauranteur Jamal Wilson says he was spared the worst of Hurricane Irma: Destruction to the Hall on Franklin — housing several restaurants and bars — was mostly limited to vandalism. "We didn't have as much damage as our neighbors," he said. But power was out until Friday afternoon and the total cost to his business has been about six figures in lost revenue: "It has been an ordeal."
On the other side of Florida in Boynton Beach, Lisa Mercado also just got her power restored at her restaurant and cafe, the Living Room, which sustained damage to its outdoor garden. Mercado said she encouraged employees to work as much before the storm as they could: Having worked in Florida restaurants since 1983, she suspected business would boom until the storm hit, but once it passed, there'd be no way to know when it would pick back up.
"You're going to want to work until the storm because afterwards there's not going to be any work," Mercado said. "There's still a lot of people out of town. People don't want to drive on the roads."
Small business owners without the resources of a major chain often struggle to rebuild, re-staff, and get sales going again after a major storm. Hundreds of thousands of Florida homes and businesses remain without power, according to Florida Power and Light, about a quarter of a million in Miami-Dade county alone. Meanwhile mom and pop businesses in Houston, Texas, face lost sales and extensive damage from flooding as they scramble to reopen.
Between both Hurricane Harvey and Hurricane Irma, the total cost of rebuilding and providing relief to victims could top $200 billion, according to Moody's Analytics.
Florida citrus growers could face a particularly difficult recovery. As many as 70% of the state's trees have fallen fruit on the ground, said Shannon Shepp, executive director of Florida Department of Citrus, in an email interview. To make matters worse, 2017 was supposed to be a banner year, she said, the "first crop size increase in years."
"A major hurricane anytime is bad," Shepp said. "But especially so right now as we were a month away from the beginning of harvest season."
In Houston, the recovery from Hurricane Harvey has been uneven, with some neighborhoods untouched and some completely devastated, said Mike Malloy, owner of the House of Coffee Beans, a roaster that has operated in Houston since 1973: "We were so lucky compared to our friends, and lots of neighbors," Malloy said. "There is that possibility — every single year — that something could develop and very quickly impact your business and your life."
The food and beverage industry, in particular, could have a hard time recovering until tourism and business travel picks up, said Houston chef Chris Shepherd. Though his three restaurants suffered only minimal flooding, he said, he has "no clue" how many chefs, waiters, and other employees are missing shifts: "What you're looking at is a city that is devastated as far as tourism goes," Shepard said. "It's going to be a hard run for a little bit. People may not have the expendable income to dine."
Indeed, not all of Houston's entrepreneurs are so sure they'll ever be able to return to business as usual: Bakery owner Bobby Jucker estimates about $1 million in damages and lost revenue from the storm, according to an Associated Press report; it's the fifth time extreme weather has forced him to close temporarily. He told the newswire that after Harvey, he was done.
If you or your business need assistance, the first step is to apply for aid through the Federal Emergency Management Authority.
The Small Business Administration has also set up web pages to provide counseling and low-interest disaster loans to people whose businesses were damaged in Hurricane Irma and Hurricane Harvey.
Depending on your industry, USA Today reports that there might also be professional associations that can provide assistance to you, as well.
To figure out how you can get involved in hurricane recovery efforts, here is one guide to vetting local charities and relief groups.