Ex-Trump advisor Carter Page files suit against Yahoo parent company for Russia story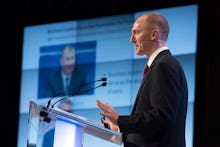 Former Donald Trump adviser Carter Page has filed suit against the parent company of Yahoo, alleging a September 2016 article linking him to several Russian officials — prompting him to take a leave of absence from Trump's presidential campaign — was defamatory.
The lawsuit, filed Thursday in the Southern District of New York, claimed the 2016 article titled "U.S. intel officials probe ties between Trump adviser and Kremlin" included "an extensive array of completely false, misrepresented and/or unverified information" that Page said Yahoo knew was false.
The article, written by Yahoo News chief investigative correspondent Michael Isikoff, detailed intelligence reports compiled by a former British intelligence officer about Page's possible Russian contacts, including two businessmen with ties to Russian President Vladimir Putin. Page has denied ever meeting with those people.
Page is seeking more than $75,000 in damages, implying in the suit there were political motivations behind the article's publication and a coordinated effort by former Secretary of State Hillary Clinton's presidential campaign and the media to spread falsehoods about him. The lawsuit included a series of photos with AOL CEO and chairman Tim Armstrong which Page said "display[s] the mutually supportive and appreciative rapport exhibited in the strategic relationship between Mrs. Clinton, Mr. Armstrong, Oath and Oath brands." (AOL is now known as Oath, following Verizon's June acquisition of Yahoo and its decision to combine the two entities.)
The lawsuit, which named fellow Oath company HuffPost and several other news outlets that reported on the information included in the original Yahoo article, alleged Oath had a business motivation to publish the story. Page suggested HuffPost's publication of the article was also politically motivated. In addition, Page also alleged such reporting has resulted in death threats.
In the suit, he called the report "perhaps the most dangerous, reckless, irresponsible and historically instrumental moments in modern-day sensational crime-story journalism."
Page, a former investment banker who now runs a consulting firm, worked on the Trump campaign as a foreign policy advisor in 2016. Since the publication of the Yahoo article, however, Trump campaign staffers and Page himself have subsequently downplayed his role in the campaign and his connections to the president.
Page again minimized his role in the Trump campaign in the lawsuit, alleging he worked as a "junior, unpaid, informal advisor."
Page was the focus of federal investigators in a summer 2016 probe that sought to determine whether he was acting as a foreign agent for Russia. He's been questioned several times as part of the ongoing investigation into Russia's alleged interference in the 2016 presidential election.
Page has denied wrongdoing.