This week in Trump-Russia news: Somehow, Don Jr.'s infamous Trump Tower meeting just got shadier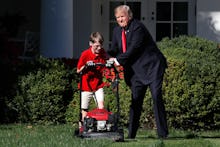 You already know that Donald Trump Jr. met with Natalia Veselnitskaya after being promised dirt on Hillary Clinton, his father's 2016 opponent.
But this week, the now-infamous 2016 rendezvous got even shadier when it was revealed that the Kremlin-connected attorney who President Donald Trump's eldest son met with had been representing a Russian client embroiled in a massive United States criminal probe into alleged money laundering.
Here's what you need to know about the new twist in the Don Jr. meeting saga — and everything else that happened in the Trump-Russia investigations this week.
Lawyer met with Don Jr. as U.S. investigated client
Federal prosecutors in New York began an investigation into an alleged ring of Russian money laundering in 2013, Bloomberg reported Friday.
At the time she met with Don Jr., then-Trump campaign chairman Paul Manafort and Trump senior adviser Jared Kushner, Veselnitskaya was representing Denis Katsyv, whose company was alleged to be part of the scheme.
Trump Jr. had initially characterized the meeting as having focused on Russian adoptions in a statement dictated by his father, but emails showed that a shared acquaintance of Trump Jr. and Veselnitskaya told him the attorney had damaging information about Clinton, which had been collected by the Russian government.
"If it's what you say, I love it," Trump Jr. responded to the publicist.
Katsyv was alleged to have benefitted from the $230 million Russian fraud revealed by lawyer Sergei Magnitsky, whose 2009 prison death led to U.S. sanctions against Moscow. Veselnitskaya has prominently battled the Magnitsky Act.
It was already known that Veselnitskaya had represented Katsyv, but it wasn't clear until Friday that he was one of her clients at the time she met with high-ranking Trump officials during the 2016 campaign.
In May, the U.S. settled a lawsuit related to the $230 million fraud case for $5.9 million, which in July, House Democrats suggested may have been directly related to the 2016 Trump Tower meeting.
"We write with some concern that the two events may be connected — and that the Department may have settled the case at a loss for the United States in order to obscure the underlying facts," Democrats on the House Judiciary Committee wrote in a letter to Attorney General Jeff Sessions.
The Bloomberg report Friday likely deepens those concerns about the nature of the meeting, which has been a key focus for investigators examining the Trump campaign's ties to Russia.
Mueller keeps on beefing up staff
Those investigations, by the way, have continued to accelerate.
Special counsel Robert Mueller added yet another high-profile prosecutor to his roster, it was reported Friday.
Attorney Kyle Freeny comes to Mueller's team by way of the Department of Justice, where Politico reports he was working on the money-laundering unit's biggest case: an "effort to seize the profits from the film the Wolf of Wall Street on grounds that the film was financed with assets looted from the Malaysian government."
The addition of Freeny, who apparently left the Wolf of Wall Street case in late June, may reflect Mueller's focus on potentially improper financial links between Trump and Russia, which, as CNN reported in August, may be easier to prove than collusion, thus providing an easier path to possible prosecution.
It also shows, once again, that Mueller's probe has been intensifying for some time.
Patrick Cotter, a former federal prosecutor now with the law firm Greensfelder, Hemker and Gale, said Wednesday that Mueller has been moving at a surprisingly fast clip — a reflection, he said, of the special counsel's staff.
"Mueller's team is good," Cotter, who said he worked with several of the special counsel's investigators in the past, told Mic by phone. "These are high-quality federal prosecutors."
Investigators still seek answers on Flynn, Manafort
Flynn and Manafort — perhaps the most heavily scrutinized members of the Trump team — continued to make headlines in the Russia probe this week.
On Wednesday, House Democrats accused Flynn of "omitting" dozens of contacts with foreign officials from his security forms related to a 2015 trip he took as part of a U.S.-Russia business effort to bring nuclear reactors to Saudi Arabia. They also asked questions about whether the retired general was still involved in the project when he assumed his role as Trump's short-lived national security adviser.
Two days later, Buzzfeed reported that Flynn — along with Kushner, the president's son-in-law, and Steve Bannon, Trump's ousted chief strategist — had met with the king of Jordan just before Trump's inauguration, possibly discussing a nuclear deal.
Friday also found Manafort spokesman Jason Maloni before a grand jury for more than two hours, though it isn't clear why Mueller ordered him to appear, according to the Washington Post. Maloni — who has been the former Trump campaign chair's spokesman since the end of the 2016 race — told reporters that he had answered the grand jury's question but declined to comment further.
Social media under increased scrutiny in Mueller probe
Mueller's team has increasingly begun to examine the role that social media sites played in Russia's interference in the 2016 presidential race, according to reports this week.
News that the special counsel is currently seeking more information from Facebook and Twitter as part of his investigation comes a week after Facebook announced it had found that a Russian-affiliated "troll farm" spent $100,000 on thousands of its ads in a possible attempt to interfere in the election.
Facebook has turned over some information to Mueller, and officials may at some point be asked to appear at a hearing before the Senate Intelligence Committee.