St. Louis protest turns violent, kicking off a weekend of demonstrations in U.S. cities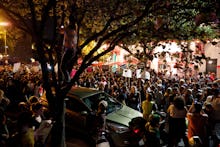 Protesters filled the streets of St. Louis Friday night after the white police officer who shot and killed a 24-year-old black man in 2011 was found not guilty of first-degree murder earlier in the day.
Jason Stockley, who resigned from the St. Louis police department in 2013, killed Anthony Lamar Smith in December 2011 because he believed the father of one was reaching for a gun.
Prosecutors said that Smith was unarmed and that Stockley had planted a gun in his rented Buick after shooting him five times at close range following a high-speed pursuit over a suspected drug deal.
The protest began soon after the not-guilty verdict and was initially peaceful, CNN reported, with demonstrators chanting "no justice, no peace!" as they marched through the city's downtown.
But the demonstration turned violent, with some protesters hurling water bottles at law enforcement and throwing rocks at the home of Mayor Lyda Krewson, police said.
By 10:15 p.m. Friday local time, police announced that the protest had become an unlawful assembly and ordered the "agitators" to disperse, deploying tear gas against the demonstrators they said had injured at least eight officers and damaged private property and businesses.
Thirty-two people were arrested in the Friday night demonstration, according to police.
Weekend of protests in St. Louis, D.C. ahead
The St. Louis protest Friday came as the nation braced for planned demonstrations in Washington, D.C., which some have feared could turn violent.
In the nation's capital two rallies are planned for Saturday: a gathering of Juggalos — face-painted fans of Insane Clown Posse — and the far-right Mother of All Rallies.
The Juggalos will descend on the National Mall Saturday afternoon to protest the group's classification as a gang by the FBI, where the pro-Trump "free speech" rally will be taking place. While the organizer of the Juggalo march said the group did not plan to interact with the right-wingers Saturday, some have feared a clash between the two groups.
Trump critics seeking to demonstrate against Russia interference in the 2016 election will also take to the National Mall Saturday in the March to Protect American Democracy.
A rally in Richmond, Virginia, which some worried could turn violent, ended early on Saturday after pro-Confederate demonstrators were dwarfed by a crowd of counterprotesters.
Meanwhile, protests in St. Louis over the acquittal of Stockley, 36, were expected to continue through the weekend, according to St. Louis Public Radio.
"What the country needs to know is, every single person in our country, we have a right to be mad," Al Watkins, an attorney for Smith's fiancée, Christina Wilson, said after the acquittal. "We have a right to disagree. We have a right to express our opinion. We have a right to protest."
"Exploit that right, don't compromise it," Watkins added. "Stay peaceful."