John McCain on his bizarre line of questioning during James Comey testimony: "I f*cked it up"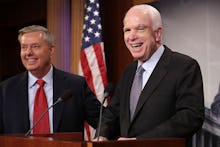 Former FBI director James Comey's June 8 testimony before the Senate Intelligence Committee was memorable for many reasons: It was the rare congressional committee hearing that was viewed as must-see TV. It gave Americans a first-hand account of what might have occurred during Comey and President Donald Trump's closed-door meeting soon after Trump took office. For a few hours, it turned "lordy" into a meme.
But many people also likely remember a seemingly confused and out-of-sorts John McCain struggling to formulate a question about Comey's investigation into Hillary Clinton's use of a private email server while serving as secretary of state — and how it may have compared to the former FBI director's probe into possible Russian hacking during the 2016 presidential election.
In an interview with Esquire, as part of a larger feature on the relationship between McCain and his longtime BFF and Senate colleague Lindsey Graham, McCain has finally laid bare what was behind the bizarre line of questioning: It was all Graham's fault.
McCain told the magazine's David Usborne that he wasn't having a senior moment, he wasn't feeling symptoms of glioblastoma — the form of brain cancer he was diagnosed with weeks after the hearing — and he certainly wasn't tired from staying up late the night before watching baseball. Instead, he was all ready to fire away with his planned questions when he got a note from his buddy Graham. That's when everything went awry.
"I had these questions laid out that I had discussed and, honest to God, two minutes before it was my turn, [the aide] hands me this app from Lindsey," McCain said, according to Esquire. Usborne clarified he meant "email," not "app." During the hearing, a staffer handed him a phone so he could read the email and the screen went black. He registered that Graham's note had something to do with Clinton, but without a passcode, he couldn't reopen the phone. He was on his own.
"I was looking at it and, naturally, the message fades," he said. "I think, 'What the fuck am I going to do here?'"
Moments later, it was his turn to ask questions.
"In the case of Hillary Clinton, you made the statement that there wasn't sufficient evidence to bring a suit against her, although it had been very careless in their behavior, but you did reach a conclusion in that case that it was not necessary to further pursue her," his question began. "Yet at the same time, in the case of Mr. [Trump], you said that there was not enough information to make a conclusion. Tell me the difference between your conclusion as far as former Secretary Clinton is concerned and Mr. Trump."
Perhaps speaking for the more than 18 million people who reportedly tuned in for the hearing, Comey began his reply by simply stating: ""I'm a little confused, Senator."
Neither McCain nor Graham remembers today what Graham's email said. But McCain said he owed it to his friend and colleague to try and remember on the fly. "I can't tell you how important our relationship is, and I knew that this must be important. So I started out trying to remember what was on the app, and, anyway, to make a long story short, I fucked it up."