White House disputes report that it will not pull out of Paris Agreement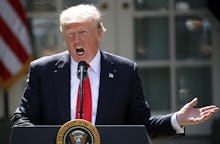 The White House is denying a report in the Wall Street Journal Saturday in which a European Union official claimed that the United States will remain in the Paris climate agreement.
"Our position on the Paris agreement has not changed," White House press secretary Sarah Huckabee Sanders tweeted Saturday afternoon. "U.S. withdrawing unless we get pro-America terms."
The Journal had reported that Miguel Arias Cañete, the European commissioner for climate action and energy, said the "U.S. has stated that they will not renegotiate the Paris accord, but they will try to review the terms on which they could be engaged under this agreement."
The move would have represented a drastic reversal by the administration on the landmark agreement, which President Donald Trump announced the U.S. would leave in a June press conference.
"In order to fulfill my solemn duty to protect America and its citizens, the United States will withdraw from the Paris climate accord," Trump said, saying the agreement was unfair to the U.S.
The Obama administration in 2015 negotiated the accord, which sought to reduce carbon emissions and increase accountability in combating climate change for the 190 countries who'd signed onto it.
Trump faced widespread criticism for his decision to withdraw, including from U.S. corporations who had urged him to uphold the deal.
Trump has repeatedly expressed doubt over the scientific consensus on climate change and reversed a number of Obama-era environmental initiatives.
The report that the administration plans to remain in the agreement stunned at least one senior official, who was "shocked" by it, according to Axios' Jonathan Swan.
An Environmental Protection Agency spokesperson did not immediately respond to a phone message from Mic requesting comment on the report.
Sept. 16, 2017, 5:51 p.m.: This story has been updated.