President Donald Trump retweets GIF of himself knocking down Hillary Clinton with golf ball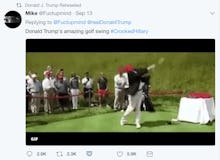 Twitter awoke Sunday morning to find President Donald Trump had retweeted a GIF of himself knocking over former opponent Hillary Clinton with a golf ball.
"Donald Trump's amazing golf swing #CrookedHillary," the tweet said, using a hashtag to reference the smear campaign against the former Democratic candidate for president.
When pressed on why the president may have retweeted a doctored image showing him physically hurting the former secretary of state, former Trump adviser David Urban stressed that his scandal-prone boss was not necessarily endorsing violence against Clinton.
The GIF in question came from the account of Twitter user @Fuctupmind, who goes by "Mike" online. Mike's Twitter bio references various conservative conspiracy theories, including one that alleges, without evidence, that former Democratic National Committee staffer Seth Rich was murdered to prevent him from leaking incriminating Democratic Party secrets to WikiLeaks.
@Fuctupmind's profile also includes a link to his account on Gab.ai, a growing social media site championing free speech that has become a favorite of some of the white nationalists Twitter has banned for harassment or hate speech. The site made headlines in August, when, upon completion of a massively successful crowdfunding campaign, the Google Play Store removed Gab's app for violating the company's policy on hate speech.
BuzzFeed News noted that the Twitter account once called for someone to "get rid" of Hasidic Jews. The tweet appears to have been deleted since it was first surfaced by media.
This isn't the first time Trump has tweeted an image portraying a violent victory over one of his opponents. In July, Trump retweeted a video of himself pummeling a wrestler with a CNN logo for a head.
In the ensuing social media frenzy, CNN issued a statement denouncing Trump's decision to tweet the video.
"It is a sad day when the president of the United States encourages violence against reporters," CNN's statement read. "Clearly, Sarah Huckabee Sanders lied when she said the president had never done so."
Though Trump had been uncharacteristically silent on Twitter as of late, a spate of bizarre tweets Sunday morning suggested a return to form for the president's controversial social media tendencies. A meme Trump retweeted from account @Team_Trump45 implied he would win every state in the 2020 presidential election if liberal opponents "keep it up."
In perhaps his strangest tweet, Trump called North Korean Leader Kim Jong-un "Rocket Man," a dual reference to the country's growing nuclear arsenal and to the Elton John song of yesteryear.
September 17, 2017 11:57 a.m.: This story has been updated.