Trump calls Kim Jong-un "Rocket Man" in bizarre Sunday morning tweet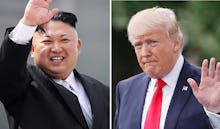 As tensions continue to escalate with North Korea, President Donald Trump took to Twitter on Sunday morning to provide an update on the isolationist country — and give its leader a new nickname.
"I spoke with President Moon of South Korea last night. Asked him how Rocket Man is doing," Trump tweeted, referring to North Korean leader Kim Jong-un.
Kim's new "Rocket Man" moniker is Trump's latest addition to his list of nicknames for political adversaries, which already includes "Crooked Hillary" and "Little Marco." Trump previously referred to the North Korean leader as "this gentleman" in an April interview, prompting speculation he had confused the current 33-year-old leader with his father, Kim Jong-Il.
The president also alluded to the effects of the recent United Nations sanctions against North Korea in his tweet, adding, "Long gas lines forming in North Korea. Too bad!"
The U.S. has estimated the sanctions, which also banned North Korea's use of alternative fuels such as natural gas and condensates, will reduce the country's oil imports by 30%. The potential for the "long gas lines" Trump mentioned is limited by the fact that private cars remain out of reach for most North Korean citizens. According to South Korean outlet Daily NK, private car ownership is "highly restricted," as any cars must be registered as the property of a state organization.
Additionally, any long lines may have already existed prior to the new sanctions. The Telegraph reported in April that gas stations in Pyongyang had begun limiting services and raising prices, prompting lengthier waits amid reports China was restricting its oil imports to North Korea. Outside of Pyongyang, the Associated Press noted in February, passenger cars "are still few and far between."
The South Korean government commented Sunday on the call between the two leaders, stating Trump and President Moon Jae-In condemned North Korea's recent missile launch over Japan and vowed to cooperate with other nations to implement the recent U.N. sanctions.
"The two leaders agreed to strengthen cooperation and exert stronger and practical sanctions on North Korea so that it realizes provocative actions [lead] to further diplomatic isolation and economic pressure," Park Soo-hyun, a spokesman from South Korea's presidential office, said in a televised briefing as reported by Reuters.