Meet Susan Georget, the little-known figure who shaped the entire plus-size modeling industry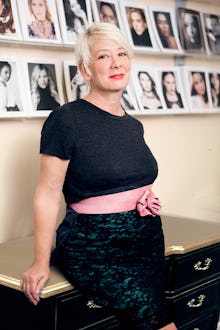 At New York Fashion Week, plus-size and curve models were out in full force at shows like Prabal Gurung, Michael Kors, Anna Sui, Chromat, Christian Siriano and more. While this may seem like a turning point in size inclusivity for the industry at large, for Susan Georget, who has been a modeling agent specializing in plus-size models for more than 20 years, this is just another win in a battle she's long been fighting.
"It's humbling and amazing," Georget, 56, said in a recent interview. "I'm not one of those going-out kind of people. I'm not a fashionable person or fabulous, but I love seeing the fabulous in other people and thinking I had a part in helping them find themselves, I guess that's pretty cool."
Georget first began working as an agent at Plus Model Management, an agency focused on plus-size models, in 1986. That's where she signed Emme, who's known as the first plus-size supermodel and was the first plus-size model to be featured on People's 50 Most Beautiful People in 1994. As you can imagine, the industry then was very different than now. Currently, we watch NYFW and count the number of plus-size models that appear (Emme walked for Chromat just this season) but back then, it was a question if any actually would.
"I think they were like the punk of modeling," Georget said. "The underground. The tailspin of the core of the storm. There was work, there were castings, there were parties, there was friendships and photoshoots, but I don't think they got on the same boat with Linda Evangelista and her friends."
It was just another boat, but still Georget was excited that there was even a boat to party on.
From Plus, she moved over to Wilhelmina and headed its first curve division, which Georget named Ten/20, after the size range that she looked to for models. (Georget loathes the term "plus size.")
That was in 1994, during a fashion era known for waifishness, androgyny and "heroin chic." Georget, meanwhile, was hard at work signing models who were anything but what was in vogue, and literally in Vogue. In total, Georget estimated that she helped sign thousands of plus and curve models, including stars like Liris Crosse (who's now starring on Project Runway), Kate Dillon, Julie Henderson, Natalie Laughlin and Mia Tyler, as well as top plus models of now, like Ashley Graham, Candice Huffine and Marquita Pring.
For Georget, what she initially looked for was height: They had to be tall. They had to be between certain sizes, of course, to be in Ten/20. But then she looked for certain qualities in bodies, too.
"I would be looking at everybody's butts first," Georget said. "Just walking around New York, I'd see a big round butt and give a side look and look at the face, because I love faces. I'd get those aha moments in the models faces, and see those tests come back, and they've blossomed into those amazing, confident women who will change other women's lives for who they are. That's what kept me going."
What set Georget apart from other agents, according to Liris Crosse — who first met Georget in 1997 (she signed her that day) — was her dedication to shaping and grooming each model. "I do remember something in her eyes lit up when she saw me," Crosse said in an interview. "And she looked through my pics and asked me questions, little stuff like, 'How old are you? Where are you from?' She took my measurements and literally offered me a contract that day. I feel as though I'm always going to honor her, because she saw something in me to start my career."
For Crosse, who had Georget as an agent for 10 years, Georget was family.
"Susan was also like a second mom to me," Crosse said. "My mom and dad live in Baltimore, and here I am, 18 years old. She was the first one to help me set up a bank account in New York, the one who told me, 'You can't come with press-on nails on set, Liris. You need to go get your nails done.'"
Georget was, in a sense, a star-maker. So it might surprise you that she said the toughest part of her job during the '80s and '90s wasn't necessarily booking gigs, but rather tending to the well-being of her models and making sure they knew how good they were.
"When they would go to a casting call, and they were standing in line with straight-sized models, they had a security crush," Georget said. "One of those, 'Oh God, they're looking at straight-sized models, they're going to pick that girl' moments. It was about finding confidence in themselves."
With Georget's sometimes blunt critiques, according to Crosse, these women blossomed. A number of women who Georget signed went on to make history with her guidance. Emme was the first plus-size model to sign with a major beauty brand, and landed on a billboard in Times Square, in New York City. Kate Dillon was the first plus-size model to appear in Vogue in 2002, which Georget said led to Anna Wintour sending her a thank-you note. "Everyone told me how rare that is," Georget recalled.
Jordan Tesfay, who Georget signed to Wilhelmina, was the first plus-size model to model for CoverGirl. Georget got Crosse into Essence, which she alleges was the first time a plus model posed in its swimsuit issue.
What fueled both Georget and her models' successes, too, was Mode magazine, which was like Vogue for plus-size women. After the magazine launched in 1997, Georget's models continuously got booked for covers, high-fashion editorials and in campaigns that'd run in Mode, which then made brands and designers see the power and beauty of plus-size models.
"With Mode magazine, that's when things really started to turn," Georget said. "It was the first time that anybody could pick up that magazine see plus models and enjoy it. Everybody could see that the models weren't just stick figures, full-sized stick figures. [But] that they had flesh and soul and heart, and they were sexy and vivid. You wanted to be them, or you wanted to be part of the scene they were shooting. When you show someone, anyone, that it could be that, then everybody's opinion starts to change — also the money that they're bringing in."
The end of that magazine in 2001, however, signified what Georget described as "the crash."
"Mode magazine closed, that was the death knell," Georget said. "That is what supported all the beautiful editorials that came out, which fueled not only the models' confidence but also said to Fruit of the Loom and Hanes and Levi's, 'Hey, we can put plus models in ads and they'll sell our product.' The ball was really rolling, and then all of a sudden there was nowhere to put those ads, and nothing to fuel the creative, beautiful process of editorial modeling."
9/11 and the subsequent economic crisis also didn't help. There was still work for these models, and obviously still plus-size clothing being manufactured and in need of models to show it off. But as far as high-fashion progress goes, and history-making spreads, things slowed down.
Georget left Wilhelmina in 2009 and is now at MSA Models, where she heads the curve department. In Georget's absence, Wilhelmina turned Ten/20 into "Curve." But still, her passion for models who buck this idea that to be beautiful is to be thin lives on.
"Why am I passionate? I'm not anywhere near the look or the size of a fashion model myself," Georget said. "I know what it's like to go shopping for clothes, and I know what it's like to not relate to anything in the magazine. For me, I'm barely five feet tall. I'm an hourglass figure. I know the struggle of trying to fit in, and trying to look a certain way."
Looking back at that era, Georget said she did help shape this plus-size industry we know so well now.
"The power I had wasn't a forceful power, but I always believed that you have to show people what they're missing."
"The power I had wasn't a forceful power, but I always believed that you have to show people what they're missing," Georget said. "So, it was the photography that was different and the bone structure that wasn't the same as everything else, the marketing. I used to hand color copies of the girls' pictures for them to carry around, and burned the edges of their pictures to put into their books. I really believed in the arts and crafts of the business. If you show people what we're capable of, they'll fall in love with it."
Unfortunately, that's exactly what so many models are still trying to convince people today.