3 takeaways from London tube attack investigation: 2 arrested as PM Theresa May praises Trump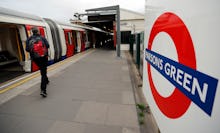 London police are continuing their investigation into Friday's attack aboard the London Underground, in which 30 people were injured.
The alleged terrorist attack, which took place at the Parsons Green station in London, occurred when an improvised explosive device was detonated at 8:20 a.m. local time, London Metropolitan police confirmed. The bomb, which was planted on the tube and detonated via a timer, did not explode fully, limiting the resulting destruction and potential casualties, the Guardian reported.
Counterterrorism officers, in conjunction with British intelligence agency MI5, are overseeing the ongoing investigation that has already resulted in multiple arrests.
Two arrested in conjunction with Friday's attack
Two men have now been arrested following the subway attack, London police said Sunday. The first, an 18-year-old, was arrested Saturday morning at a departure port in Dover, England. Police hailed the arrest as "significant," as the teenager is suspected to have planted the bomb on the tube carriage, the Guardian reported.
A second arrest of a 21-year-old man took place Saturday evening in Hounslow, west London. Police remain less sure about the second suspect's involvement in the attack, the Guardian noted, and investigators were still determining whether the event was part of a wider conspiracy.
"At this stage we are keeping an open mind around whether more than one person is responsible for the attack, and we are still pursuing numerous lines of enquiry and at a great pace," Mark Rowley, assistant commissioner for London Metropolitan Police, said in a statement.
Police evacuate Surrey residence
Police evacuated on Saturday afternoon a residence in the London suburb of Sunbury-on-Thames, which is believed to be connected to the creation of the device used in Friday's attack. Roughly 60 homes in the surrounding area were also evacuated, and police set up cordons within 100 meters of the property as a precautionary measure.
According to the Guardian, the targeted house belongs to a couple known for fostering children. They were awarded a Member of the Order of the British Empire — a British honor given by the government for "outstanding achievement or service to the community" — for their services to children and families in 2010. Penelope and Ronald Jones had reportedly taken in up to 300 children over the past four decades, including eight refugees.
The London police said Sunday they were also continuing the search of an address in Hounslow, where the second arrest took place.
Though the U.K. government raised the country's terrorism threat level to "critical" in the wake of Friday's attack — meaning an attack was expected imminently — the threat level was subsequently lowered to "severe" following developments in the case. "Severe" means an attack is highly likely.
"The high pace and rapid progress of this investigation is continuing. ... There is still much more to do but this greater clarity and this progress has led JTAC — the independent body that assess threat — to come to the judgement that an attack is no longer imminent," Rowley said Sunday.
Theresa May praises Trump in wake of controversial Twitter reaction to attack
British government officials criticized U.S. President Donald Trump for his immediate response to Friday's attack after he tweeted the explosion was committed by a "loser terrorist" who was "in the sights of Scotland Yard."
Nick Timothy, former chief of staff to Prime Minister Theresa May, decried Trump's comments as "so unhelpful," with May herself making similar remarks.
"I never think it's helpful for anybody to speculate on what is an ongoing investigation," May said Friday.
However, May offered a much kinder opinion of Trump just two days later.
"I do get on with him. ... We work very well together. The U.K. and U.S. have always had a special relationship and worked well together," May said in an interview Sunday on ABC News.
May's comments reflected her ongoing working relationship with Trump, which began when she became the first world leader to visit the White House following his inauguration.
The prime minister's friendliness with Trump has not been warmly received by her constituents, however, with some speculating the leaders' friendly rapport contributed to May's underwhelming performance in the U.K.'s most recent general election. According to a Pew Research Center poll, only 22% of those in the U.K. have confidence in Trump to do the right thing regarding world affairs, and over 1 million Britons signed a petition attempting to prevent Trump from making an official state visit.
When This Week host George Stephanopoulos asked May about Trump's unpopularity in her country, she offered a simple response: "What I say is that they should look to what President Trump has done."