Donald Trump Jr. will give public testimony this fall, according to Sen. Dianne Feinstein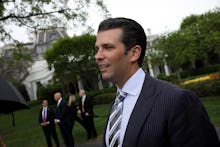 Sen. Dianne Feinstein (D-Calif.) said she expects Donald Trump Jr., President Donald Trump's oldest son, to give public testimony about his June 2016 meeting with a Russian lawyer in front of the Senate Judiciary Committee this fall.
"I think it's Senator [Chuck] Grassley's intent, and it's certainly my intent, to have him before the committee in the open and be able to ask some questions under oath," Feinstein, a ranking member of the Judiciary Committee, said during an appearance Sunday on CNN's State of the Union.
"It'll be this fall, I know that for sure. Things keep changing. Not by design, but by the press of other business on the committee," Feinstein continued.
Trump Jr.'s potential fall testimony would make him the president's first immediate family member to testify as part of the ongoing Congressional investigations into the Trump campaign's alleged Russian ties. The president's son underwent five hours of questioning with Judiciary Committee members and staffers earlier this month, though that meeting was not under oath.
According to CNN, lying in those circumstances would still constitute a violation of federal law and would be punishable by up to five years in prison.
The New York Times reported that during the lengthy meeting, Trump Jr. claimed nothing came of his controversial meeting with a Russian lawyer connected to the Kremlin, which he said he set up because it was important to learn about Hillary Clinton's "fitness" for the presidency.
"To the extent they had information concerning the fitness, character or qualifications of a presidential candidate, I believed that I should at least hear them out," Trump Jr. said in his prepared remarks to Congress about the meeting, as reported by the Times. "Depending on what, if any, information they had, I could then consult with counsel to make an informed decision as to whether to give it further consideration."
Trump Jr. has become a person of interest to investigators largely because of the June 2016 meeting, the existence of which was confirmed when he released a series of emails between himself and music publicist Rob Goldstone, who arranged the meeting.
Questions have also arisen regarding what then-candidate Trump knew of the meeting and whether the president was involved in drafting a statement when the meeting's existence was revealed. Trump Jr. has maintained his father knew nothing of the meeting and said he didn't ask the president for help with the statement so as to not involve him in "something he knew nothing about."
The controversial meeting between Trump Jr. and Kremlin-connected lawyer Natalia Veselnitskaya has become even more potentially damaging since Trump Jr.'s questioning. It was recently revealed Veselnitskaya was, at the time of the meeting, representing a client connected to a $230 million Russian money-laundering scheme, prompting questions about potential connections between the two.
Despite the lengthy questioning that has already taken place, Feinstein warned Sunday that investigations into the Trump campaign are far from over.
"This could take a year, a year and a half, if not more. So I think people have to be patient," Feinstein said.