How Trumpcare 5.0 rose from the dead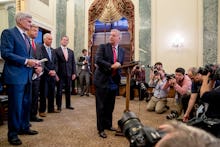 Welcome to Mic's daily read on Donald Trump's America. Want to receive this as a daily email in your inbox? Subscribe here.
Every day, we bring you a different dispatch on Trump's America. Today's focus: The latest attempt to repeal Obamacare.
Monday's dispatch: How the Republican bid to repeal the Affordable Care Act came back from the dead
It has been a little more than two months since Sens. Lindsey Graham (R-S.C.) and Bill Cassidy (R-La.) announced their health insurance reform bill.
Their legislation never advanced. Two weeks later, Sen. John McCain (R-Ariz.) seemed to kill health care reform with a dramatic "no" vote early in the morning on July 28.
McCain called on the Senate to hold bipartisan talks to come up with a replacement for the Affordable Care Act. But now, Senate Republicans are taking a final shot at "repeal and replace" this year — with the Graham-Cassidy legislation.
Sen. Mitch McConnell (R-Ky.) will gauge support for the bill this week. The GOP has less than two weeks to pass a health care reform package with only 50 votes in the Senate: Come October, the legislative tool that lets Republicans avoid the filibuster will no longer be available.
Republican senators say they are one vote short of passing the legislation. McCain recently said he supported it. That was a sharp departure from the senator's call for bipartisan health care talks at the end of July.
Cassidy says his bill will give states an annual block grant to help residents pay for the cost of health insurance. It would take away federal funding for the ACA's Medicaid expansion, tax credits and more, to instead let each state decide how to help cover insurance costs.
Democratic senators and progressive groups say tens of millions of people would lose health care coverage under the proposal — just as the Congressional Budget Office said of previous Republican health care bills. A progressive think tank recently predicted the plan would cut hundreds of billions of dollars relative to the ACA over the next decade.
The CBO has yet to score the Graham-Cassidy proposal.
The GOP advantage this time? A lack of attention, a short timeframe and possible fatigue over health care.
Republicans avoided a showdown over the debt ceiling that normally consumes the end of the annual period when they can use "reconciliation," the tool that allows bills to pass the Senate with 50 votes. The short timeline may flip one Republican senator to support the plan.
Until this weekend, the public has seen little news coverage or activism directed at the bill. And in the next week, activist groups may be unable to drum up grassroots opposition to this health care proposal at a similar level to what they drove in August.
Whatever happens, senators will have to vote on this proposal by the end of September. If the legislation passes, it would also have to make it through the House.
For the record: This is now (at least) Trumpcare, version 5.0.
Today's question: Do you think there is anything different about this Republican effort to repeal and replace the ACA? Email us at trumpsamerica@mic.com with your thoughts.
This week in Trump's America:
On Tuesday, the president will give his first address to the United Nations in New York City. In past foreign addresses, Trump has aimed to dramatically reshape America's role in the world — going so far as to scold allies and criticize NATO. How Trump will approach this speech is anyone's guess.
With Trump at the U.N. early this week, North Korea will dominate the discussion. The president called North Korean leader Kim Jong-un "Rocket Man" on Sunday — giving yet another nickname to a political foe. But while some countries are no longer letting North Korea import oil, China will not stop its exports. And the U.S. is staging bombing drills with South Korea in a show of force.
A war between Republicans is brewing in Alabama. Eyes have been focused on the Senate special election for weeks. But with millions of dollars pouring in to support Sen. Luther Strange (R-Ala.), Roy Moore has jumped out to a substantial lead over Strange. The president will campaign for Strange, McConnell's chosen candidate, on Saturday, ahead of the special election on Sept. 26.
The Alabama battle is part of a showdown between Steve Bannon and the establishment GOP. In extremely frank comments to the Washington Post, senior conservative strategists promised war with Bannon.
The Trump administration is trying to remain in the Paris Climate Deal. After the president's high-profile speech promising to leave the accord, officials are looking for ways to stay in.
A top Democratic senator says Donald Trump Jr. will have to deliver public Senate testimony this fall. Roger Stone, a longtime Trump confidante, will testify before the House on Sept. 26. And at a lunch in Washington, two Trump lawyers were overheard clashing about how to handle the Russia investigation.
Protests broke out in St. Louis over the weekend after a white police officer was found not guilty of first-degree murder for killing a 24-year-old black man in 2011. And the killings of two black men from Louisiana were likely racially motivated, police said.
Two people have been arrested following the bombing on the London subway.
Something to think about: "Facebook knows more about Russia's election meddling. Shouldn't we?"
The House is not in session this week. The Senate is in for three days.
Today's MicBite:
Mic's Jack Smith IV covered the Juggalo March in Washington, D.C., on Saturday. Read his story on how these clowns have become the new face of anti-racist activism. Tap or click below to read and watch his coverage of the march on Twitter.