After an Emmys red carpet encased in Spanx, Lane Bryant's new commercial talked cellulite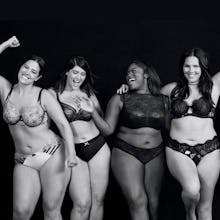 Almost every single person on the 2017 Emmys red carpet looked phenomenal. Tessa Thompson in that metallic rainbow dress from Rosie Assoulin, and Zoë Kravitz in that rainbow Dior. Riz Ahmed in that dark chocolate Prada, and Donald Glover seamlessly pulling off a purple suit. Nicole Kidman in that red Calvin Klein, and Viola Davis in that orange Zac Posen.
Flawless look after flawless look, and yet, rather surprisingly, the most thrilling beauty moment wasn't on that red carpet, but during the commercials.
After a red carpet surely encased in Spanx (not that there's anything wrong with that), Lane Bryant decided to debut a new #ImNoAngel commercial, starring women talking about their bodies.
In the commercial, models Candice Huffine, Denise Bidot and Ashley Graham, along with actress and model Danielle Brooks, came together to talk love handles, stretch marks and cellulite, which Graham reveals she's had since she was 11 years old.
"We picked the Emmys because it's the night that encapsulates one very narrow stereotypical view of beauty and we thought it was a perfect moment to show beauty can be very diverse, and sexy can be diverse," Brian Beitler, the chief marketing officer at Lane Bryant, said in an interview.
Shot in black and white, with all the women wearing bras and underwear themselves from Cacique, this #ImNoAngel campaign felt like a definite side eye to the mega-lingerie retailer that still hasn't embraced plus-size models: Victoria's Secret.
And we have just a little more than a month to go until the VS Fashion Show, no less.
"Dare to be your sexy," Brooks instructs at the end, before they all chime in, at different times, with their own version of: "I'm no angel."
But according to Beitler, it's not so much a response to VS, as it is a call to empower.
"We often get asked if this is a direct message against Victoria's Secret Angels," Beilter said. "It's a message to instill confidence in all women and let them know that these idealized standards need to go, and we need to embrace all bodies and embrace all women and all people and celebrate and let everyone feel beautiful."
Other than this ad, there was at least one other woman who got real about her body on the red carpet, and that was the always-charming Rachel Bloom of course. Wearing a Gucci gown herself, she told Giuliana Rancic on the carpet that she bought the dress herself, because "It's hard to get places to lend me dresses because I'm not a size 0, but also I can afford it, so it's okay."
She then admitted that she'll likely be selling it on the secondhand luxury shopping site The RealReal.
Amidst a sea of impossibly thin celebrities, these doses of reality felt all too necessary.
You can view the entire commercial below:
Sept. 18, 2017, 11:46 a.m.: This post has been updated.