Cardi B is living a fashion fairy tale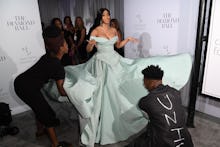 This is a story about a girl named Cardi. For the past few years, Cardi B has been an adored and potent TV and internet star, with memorable stints on Love & Hip Hop: New York, viral videos on Instagram and Twitter and feminist declarations like "Ever since I started using guys, I feel so much better about myself. I feel so damn powerful."
Gloria Steinem, who?
Now, as fashion is finally giving Cardi the attention she's long deserved, she's turning out to be a formidable fashion force, showing up at New York Fashion Week and red carpet events looking like she's the queen of the world. (If she was, we'd have no complaints.)
It's felt like a long time coming, to be honest. When she first started making red carpet appearances in 2016, she showed up in outfits most accurately described as "a lot of look."
Exposed and a bit overdone. Similar looks regularly appeared on her social media in 2015 and 2016, too.
It was just Cardi being Cardi, which means always being honest and real and true to herself. But with the start of 2017, the year she'd finally sign her first solo record deal with Atlantic Records, and then generously release the summer's greatest hit "Bodak Yellow," fashion finally saw her potential.
So she started wearing custom-made looks from brands like Vetements, and dressing like she was trying to channel people like Kim Kardashian West and Lil' Kim.
Gucci took notice.
Ashish took notice.
LaQuan Smith, who she's been a fan of for a while now, started to do her right.
And she started having street style moments a la Rihanna, wearing fur coats and giant sunglasses, even though it's dark out.
At New York Fashion Week in February, it was obvious Cardi had leveled up, attending shows like Michael Costello and Namilia in full-on glam mode.
At the BET Awards in June, she showed up sleek and polished in a red power suit Hillary Clinton would envy.
And at the MTV Video Music Awards, in a custom Christian Siriano jumpsuit, she looked all powerful again.
Her Instagram reflected this shift toward more high fashion, too, with her now posting regular outfit pics, with all those designers tagged.
But we'd say what ignited Cardi B's real ascension to fashion superstardom was at this most recent NYFW, where she hung out with some of the most fashionable people on earth, and yet still seemed to stand taller than the rest.
At shows for Siriano and Fenty Puma by Rihanna, she shined.
Then at the tail end of last week, at Rihanna's annual Diamond Ball, Cardi B finally had her true Cinderella moment, when she showed up in a light blue Siriano dress that put Cinderella's, frankly, to shame.
Elegant and timeless but still quintessentially Cardi (just look at those nails), she had never looked better.
Twitter obviously agreed.
After years of trying to make it, Cardi B has found her footing in not only pop culture superstardom, but fashion stardom, too.