The first Emmys of the Trump era showed a diverse America. But did it go far enough?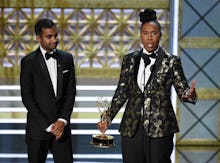 Stephen Colbert, the host of Sunday night's Emmys ceremony and one of the entertainment industry's most vocal critics of President Donald Trump, set the tone of the the 69th annual awards ceremony, with this barb from his opening monologue: "Unlike the presidency, the Emmys go to the winner of the popular vote." It was an indirect nod to what we didn't get on election night in 2016, but what we did get from the stage of the Microsoft Theater in Los Angeles on Sunday: a series of historic wins for marginalized voices and stories.
The 2017 Emmys contained not just direct and continuous jabs at the deeply disliked man in the White House, but the telecast seemed to recreate a vision of America that felt lost in the most recent presidential election and the deeply contentious months that have followed it. The awards show felt like Hollywood's indirect way of saying, "This is the America we believe in and the one we are proud of."
Notably, Lena Waithe made history with her win for outstanding comedy writing, a first for a black woman. She earned the honor because of the stellar Master of None episode "Thanksgiving," which she and Aziz Ansari cowrote, that portrayed her coming out to her family in a raw, relatable and honest way. The multitalented Donald Glover was rewarded two historic honors: one for outstanding actor in a comedy series (as BuzzFeed noted, he's the first black actor to win that award in 32 years) and one for outstanding comedy directing, thanks to his work on his surreal and gutting series Atlanta (he's the first black director to ever take home that particular trophy).
Rashad Robinson is executive director of Color of Change — a national organization that, among other things, campaigns for diverse representation — and he told me over the phone that both of these wins were powerful, not just for being historic but because they were for diverse and nuanced stories about black identity in America. "It was incredible to see Lena and Donald winning ... not just being the subjects of their stories, but being the creator and visionaries of their stories," he said.
Add to this The Night Of's Riz Ahmed, a British actor who also made history as the first man of Asian descent and first Muslim to win the award for outstanding actor in a limited series, and Saturday Night Live, which also won big for tackling politics head on. Its recurring guest Alec Baldwin and franchise star Kate McKinnon were recognized for imitating Trump and Hillary Clinton, respectively. Baldwin, in his acceptance speech, needled Trump about his losing record at the awards show, saying, "Here's your Emmy." (The less said about the other big swipe at Trump, Sean Spicer's surprise cameo at the start of the evening, the better.)
But perhaps the best "fuck you" to Trump was the fact that shows with explicitly feminist themes, The Handmaid's Tale and Big Little Lies, both received several awards. The Handmaid's Tale's Elisabeth Moss and Ann Dowd took home outstanding actress and outstanding supporting actress in a drama series, respectively, and the show won the night's biggest prize: outstanding drama series. Big Little Lies nabbed outstanding limited series, while Nicole Kidman and Laura Dern each won in their respective categories: outstanding actress in a limited series and outstanding supporting actress in a limited series.
Both shows have women protagonists and focus on the abuse women suffer at the hands of men that have too much power, either over the state or over their lives. The Handmaid's Tale, based on the 1985 book of the same name by Margaret Atwood, paints a picture of a dystopian future where an oppressive regime directly controls a certain class of women, down to their physical movement and their reproduction. It's dark and difficult to watch (almost every sexual encounter is assault) and resonates even more when you're watching it in conjunction with constant attacks on women's access to reproductive health care.
In Big Little Lies, Kidman's character endures intimate partner violence at the hands of her husband, portrayed menacingly by Alexander Skarsgård. His character's so grim, violent and creepy, that it's shocking he was given an Emmy for outstanding actor in a limited series — and even more shocking that he didn't address the horror of his character in his acceptance speech. Kidman, however did: In one of the most heartfelt speeches of the night, she ended by calling domestic violence an "insidious disease," saying, "it is filled with shame and secrecy, and by you acknowledging me with this award, it shines a light on it even more."
Perhaps it's not intentional given that production on Big Little Lies took place before Trump took office, but Kidman's portrayal of overcoming abuse at the hands of her husband feels like it captures how many women in America are likely feeling these days: They're grappling with the fact that someone who was caught on tape bragging about sexually abusing women was voted into the White House.
But as satisfying as these historic wins and these rebukes to Trumpism might feel, you can't fault someone for feeling like it isn't enough. As Ira Madison notes at the Daily Beast, television shouldn't be "patting itself on the back for inclusiveness" just yet. Riz Ahmed made a similar point at a press conference following the Emmys, saying, "I don't know if any one person's win, or one person snagging a role or one person doing very well changes something that's a systemic issue of inclusion."
Robinson voiced a similar sentiment in my phone conversation with him. He told me that it was great to see a "Trump-era award show and Hollywood talking resistance, but what are the everyday ways they are going to challenge what they put on television?" Discussing the role that Hollywood has in shaping society, Robinson added that the industry has the power to "tell the types of stories that change narratives and that help us understand racism, misogyny and sexism are not just accidents; they are unjust. Hollywood at its best helps illuminate that."
A lot of good work was honored Sunday night, and some history was made. Firsts are important, and they're refreshing to see on television — but it's also eye-opening that it's 2017, and there are still this many firsts.