Leon Ford Jr. was shot by police 5 times in 2012. Now he's fighting for his civil rights.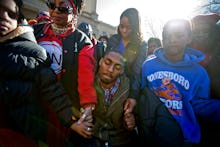 Leon Ford Jr. is learning to walk again five years after doctors told him he would never take another step. For two years, the 24-year-old Pittsburgh native built up his core muscles and pushed his doctors and insurance company to give him leg braces. In April 2016, his wish came true.
But how Ford got here is another example of the way excessive policing too often harms black people in the United States. In November 2012, Ford was shot five times by police officers during a traffic stop in his hometown. The incident left him paralyzed from the waist down. Since the shooting, Ford has shared his journey — the legal, physical and mental challenges — with thousands on social media.
For instance, in August, a clip of Ford taking steps while holding a walker went viral. On his left side, Ford's son walks and encourages his dad to keep going. The clip has been shared more than 166,000 times on Twitter.
Ford isn't close to giving up in the fight for his own rights. On Sept. 19, attorneys for Ford and the officers involved in the incident, David Derbish and Andrew Miller, gave opening statements at a civil rights trial set to determine whether both officers violated his civil rights. Derbish, who shot Ford five times during the traffic stop, is being sued for allegedly using excessive force; Miller, is facing an assault and battery count.
"This case is about poor police work," Monte Rabner, one of Ford's attorneys, said in the trial's opening statement. "Poor police work got Leon in that wheelchair."
Ford's civil trial is the latest legal battle in the past five years of his life. Initially, officers involved in the incident accused Ford of aggravated assault, reckless endangerment, resisting arrest and escape. Ford built support around his innocence using social media and organizing rallies in Pittsburgh and in other cities across the nation. By September 2014, an Allegheny County jury found Ford not guilty of aggravated assault. Ford faced a second trial for the remaining charges. But in January 2015, Allegheny County district attorney Stephen Zappala, Jr. dropped those, too. Zappala cited Ford's injuries and Pittsburgh police chief Cameron McLay's efforts to improve police and community relations as reasons to not pursue the charges.
"The past five years have been very strenuous," Ford said in a phone interview. "I was fighting for my freedom at one time and fighting to show the world that I was a good person and that I did not deserve to be shot five times by a police officer."
But Ford had to find ways to cope immediately after the shooting. He began journaling his feelings and reading self-help books. He chronicled his spiritual awakenings in a new book Untold, which will be released on Nov. 11.
"It's like a rebirth of me," Ford said. "That moment caused my shift in consciousness and made me not think about myself, but to think about communities around the world and innovative ways to help people."
Ford said that activism is tough because it is his life. "I see people sharing stories, liking and posting and organizing. And when the march is over, they get to go home. And for me it never ends."
But Ford continues to use his platform to speak out because he said the issues of police violence are much bigger than his case. He said he hopes by writing about his traumatic experience that he can be a voice for victims who have been silenced.
"I was thinking about all of the individuals who didn't have the opportunity to tell their story because unfortunately they die or they're just so broken, like how I was," Ford said. "And it's important that people who go through this know they too can have confidence. That they too have a voice. That if they were victims of rape or even if they just lost a job — I'm just hoping if they can read the book it can give them strength, hope and optimism."
Ford also said he wants police and society to be held more accountable for the mistreatment of black people. Ford said his parents taught him how to be respectful to police when he encountered them growing up. Even though he listened to their advice, he was still shot. "Society failed me," he said.
As a parent, Ford is taking a different approach in teaching his son about dealing with racism and discrimination. "I believe society doesn't want young black men or women to be confident. And so I take it upon myself. I affirm him. Even when he put his shoes on. I'm like you're so amazing. You don't need my help. You know you got this."
He also said he wants to continue using his platform to challenge how society views his son and other black people.
"And so if me building relationships with police officers, politicians, community organizers, different readers — as I build these relationships — I'm changing society," he said. "So I'm not only saving my son, but I'm saving somebody else's child as well. And that for me is very personal. And this is why when I wake up, I spread positivity, I spread love, I spread all positive vibes, even considering the tragedy that happened to me."