Snapchat blocks Al-Jazeera channel in Saudi Arabia at government's request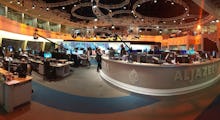 The social media platform Snapchat has blocked Al-Jazeera content from its Snapchat Discover platform in Saudi Arabia, which the company says is to comply with the country's laws.
Snap Inc. said Saudi Arabia's Communications and Information Technology Commission informed the company that Al-Jazeera was in violation of Saudi laws about cyber crime and about printed materials.
"We make an effort to comply with local laws in the countries where we operate," a spokesperson for Snap Inc., told Mic in a statement.
Al-Jazeera's head of incubation and innovation research, Morad Rayyan, said in a statement that the decision was "unprecedented."
"Snapchat is a U.S.-based company, publicly traded, and it stands for freedom of expression," Rayyan said in a statement to Al-Jazeera. "We are working on contingency plans to ensure our content is available on other platforms."
Rayyan added that the company was urging Snapchat to review its decision.
"They were that ones who invited us to be one of their news partners for the region," he said.
The Wall Street Journal first reported the development late Sunday evening.
Snap Inc.'s decision to pull Qatari-owned Al-Jazeera from its platform comes amid an ongoing diplomatic dispute in the region that began in June. Several countries in the gulf region have issued sanctions and a blockade against Qatar, accusing the country of supporting terrorism. Qatar has vigorously denied the accusations.
In June, Bahrain, Egypt, Saudi Arabia and the United Arab Emirates demanded that Qatar shut down Al-Jazeera as part of a steep list of concessions, which also included. Qatar did not comply.
Saudi Arabia and the UAE both suspended Al-Jazeera and blocked its website in the midst of the crisis. Attempts to shutter Al-Jazeera or limit its reach in those countries have been met with concern by press freedom groups. Al-Jazeera has accused the countries of targeting "the journalistic profession and freedom of expression" the network said in a statement in June.
Al-Jazeera is still available on Snapchat Discover in 14 other countries in the region, including Bahrain, Egypt and UAE, Snap Inc. said.