Arizona governor endorses Graham-Cassidy — signaling potential support for it from Sen. John McCain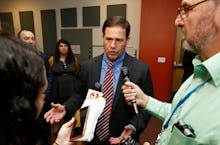 Arizona Gov. Doug Ducey has announced his support for a health care bill written by Republican Sens. Lindsey Graham of South Carolina and Bill Cassidy of Louisiana. That bill, referred to as Graham-Cassidy, seeks to drastically reduce the role of federal government in the U.S. health care system, opting instead to dole out block grants on the state level.
"Graham-Cassidy is the best path forward to repeal and replace Obamacare," Ducey said in a statement on his Twitter account. "I will continue to work with the Congress and the [Trump] administration to give states more flexibility and more options moving forward."
Referencing the Sept.30 deadline by which the health care bill will have to pass the House and Senate, Ducey said, "Congress has 12 days to say 'yes' to Graham-Cassidy. It's time for them to get the job done."
Ducey's affirmation of support for Graham-Cassidy comes hours after Sen. John McCain (R-Ariz.) said he may support the bill on the condition that Ducey also supports it.
With Ducey on board, McCain now has the political latitude to do exactly that.
The Graham-Cassidy health care bill represents Senate Republicans' latest effort to repeal the Affordable Care Act, a keystone of former President Barack Obama's political legacy. Four of Senate Republicans' previous attempts to repeal the ACA did not receive the requisite number of votes necessary for passage.
Their last unsuccessful attempt — the so-called "skinny repeal" of the ACA — failed in theatrical fashion as McCain, along with Republican Sens. Lisa Murkowski of Alaska and Susan Collins of Maine, joined Senate Democrats in voting against it.
As with the skinny repeal, Senate Republicans need 50 votes to pass Graham-Cassidy. With Ducey's endorsement, a conditional on which McCain predicated his own support, the GOP is one small but meaningful step closer to making good on its yearslong promise to repeal the ACA. However, McCain also told the public he would consult with Ducey before voting the skinny repeal. Though the senator would go on to vote against it, the governor reportedly gave him the all-clear to vote "yea" on it.
With only 12 days before the deadline, Graham-Cassidy faces a long and potentially arduous road to passage. Politico reported Sunday that Senate Majority Leader Mitch McConnell would bring the bill to a vote if 50 senators expressed their support for it. However, Sen. Rand Paul of Kentucky — who previously voted "yea" on the skinny repeal — said in a Twitter fight with Cassidy that he would not support the bill, criticizing his colleagues' proposal as "Obamacare Lite."
Citing a preliminary analysis from the Center on Budget and Policy Priorities, an Axios analysis of Graham-Cassidy noted that Murkowski and Collins' home states stand to lose millions in federal funding if the bill passes.
"Alaska is among the losers here, and it's hard to see [Murkowski] getting on board with this bill or this process," the analysis said. "Same goes for Sen. Susan Collins."
Though the Congressional Budget Office has yet to score the bill, the CBPP warned that millions would lose their insurance under it.
"It would substitute a block grant for the funding that now provides states with resources for Medicaid expansion, premium tax credits, and cost-sharing reduction subsidies," the CBPP's Judith Solomon said to Vox. "People don't have a guarantee of meaningful coverage. It's totally different."
The CBO announced Monday it would provide a preliminary assessment by early next week.