The GOP's latest health care measure could pass before we know how many people it would affect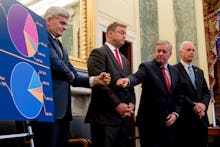 Senate Republicans are quickly trying to jam through their latest attempt at repealing and replacing the Affordable Care Act. And on Monday, the Congressional Budget Office may have just made it a lot easier for them.
For the past two months, Sens. Lindsey Graham (R-S.C.) and Bill Cassidy (R-La.) have been quietly pushing a Senate bill they think can gain more votes than previous failed attempts.
Because of Senate budgeting rules, any attempt to pass a repeal bill via the special reconciliation process must first be scored by the CBO.
The CBO published a statement on its website Monday that said it aims to "provide a preliminary assessment of the Graham-Cassidy bill by early next week."
According to the CBO, the assessment from the nonpartisan federal agency will include some of the bill's budgetary consequences but will not contain "estimates of the effects on the deficit, health insurance coverage or premiums for at least several weeks."
That means the Senate could use the CBO's early evaluation to vote on the bill as early as next week, even though the legislation's full impact on health care coverage will have yet to be thoroughly examined.
Previous ACA replacement bills were met with considerable resistance after the CBO found they would result in anywhere from 22 million to 24 million people losing their health insurance coverage.
If Republicans are able to send this latest bill to the floor without such a damning assessment looming over their heads, it may allow the party to engender the support of its more wary members.
The Senate's last attempt to replace the ACA was killed by just one vote when Sen. John McCain (R-Ariz.) made the surprise decision keep the vote from advancing.
On Monday, Arizona's Republican Gov. Doug Ducey came out in favor of the new Graham-Cassidy bill, suggesting his fellow Arizonan and political ally McCain might do the same.
McCain has reportedly suggested that Ducey's support puts him closer to a "yes" vote, but said he would prefer a bipartisan bill with "weeks of hearings," according to a Twitter post from NBC News political reporter Benjy Sarlin.
Hearings on the bill are already scheduled for as early as Monday, meaning the bill could make its way through the committee process long before the CBO gets a chance to tell the country how many people will actually be affected by it.