Trump is talking at the UN about pressuring North Korea. Here's why further sanctions may not work.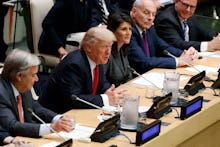 Welcome to Mic's daily read on Donald Trump's America. Want to receive this as a daily email in your inbox? Subscribe here.
Every day, we bring you a different dispatch on Trump's America. Today's focus: Sanctions.
Tuesday's dispatch: With Trump speaking about North Korea, here is why sanctions are not working.
On Tuesday, the first president in generations to question whether America should be a world leader will offer his first address to the United Nations.
President Donald Trump already said Monday he wants to, "make the United Nations great." His speech will focus on reforming the U.N. to have more buy-in from member nations by urging "burden sharing" among the world's countries.
And a cornerstone of Trump's speech will be a push for resolution of the North Korean threat.
The White House said Trump will urge nations to not be "bystanders in history" and join the U.S. in pressuring North Korea to end its nuclear program. All nations should work together against rogue states, the president is expected to say.
But experts who study the isolated nation believe a change in policy is also necessary from the United States. Sanctions alone, they argue, are not likely to produce the result of a denuclearized North Korea — and further restrictions may lead to military conflict.
A former sanctions monitor for the U.N., Enrico Carisch has studied the effectiveness of restrictions enacted by leading nations on rogue states.
He told Mic sanctions must be part of a larger vision that lets the U.S. and North Korea negotiate with terms both countries can agree to. The "binary struggle," where North Korea demands an end to sanctions and the U.S. demands denuclearization before negotiation, has not been effective, Carisch said.
Existing sanctions — targeting North Korea's fossil fuels and the regime's finances — could be taken further, but "an economic warfare package ... doesn't benefit anybody," Carisch said.
Charles Armstrong, professor of Korean studies at Columbia University, argued the focus on military might and economic sanctions are missing the third leg of the stool — diplomacy.
"Sanctions have never been an effective means of getting North Korea to come to the negotiating table," said Armstrong, who noted U.N. sanctions against North Korea went into effect in 2006.
He added the next step is an embargo. "That has never been tried [with North Korea]. It's rarely tried in international politics."
A full embargo, which would involve military forces stopping all imports or exports from North Korea, is currently not likely. South Korean leaders said they will continue to provide several million dollars in food aid, for example, to North Korea's neediest residents.
"As long as they try to target the elites and the money ... the intent is never to hurt the North Korean people," said Lisa Collins, a fellow in the Korea program at the Center for Strategic and International Studies.
She added that while sanctions alone are no longer likely to stop North Korea's nuclear program, recent harsher sanctions on trade and oil could slow nuclear development.
"Sanctions should be given a longer time to work," Collins said. "That seems to be what the current strategy of the Trump admin is ... to make North Korea feel some pain."
Today's question: It's an age-old question in diplomacy: Use the carrot or the stick? Should the U.S. change its position toward North Korea? Or continue pushing even harsher sanctions? Please email us at trumpsamerica@mic.com with your thoughts.
Tuesday in Trump's America:
Senate Republicans say they are a vote short of passing a bill to reform health insurance. States like Alaska and Maine stand to lose large amounts of money if the Graham-Cassidy bill passes, challenging the GOP to convince Sens. Lisa Murkowski (R-Alaska) and Susan Collins (R-Maine). They were key holdouts on the last bill.
On Monday, Arizona Gov. Doug Ducey said he supported the bill — a green light for Sen. John McCain (R-Ariz.), who has said he is open to the legislation. McCain voted against the previous health care bill because he said the process was too partisan.
Late-night host Jimmy Kimmel said Sen. Bill Cassidy (R-La.) sponsored legislation does not pass the "Jimmy Kimmel test" — a measure Cassidy and Kimmel came up with during a previous round of debates that asks whether a health care bill would let a child born with a serious health condition get all the care they need in their first year.
Because the Congressional Budget Office will not have a full score of the bill released next week, the GOP will have to vote on the legislation before they know how many people it will impact. They have until Sept. 30 to pass the bill in the Senate with 50 votes.
The interior secretary wants to shrink 10 national monuments and open others to fossil fuel drilling.
Inside South Korea's emerging alt-right movement.
Hurricane Maria devastated a small Caribbean island. It is now on its way to Puerto Rico.
The governor of Rhode Island launched an initiative to cover the fees for residents to renew their status in the Deferred Action for Childhood Arrivals program.
Sean Spicer, Trump's former press secretary, told the New York Times he regrets berating journalists about the size of the president's inauguration crowd.
Latino Republicans say they are being ignored by the White House.
CNN reported the U.S. wiretapped former Trump campaign chairman Paul Manafort. The monitoring happened before and after the election.
Today's MicBite:
Protests broke out in St. Louis over the weekend after a police officer who shot and killed a black man was acquitted. Tap or click below to watch a video about the protests.