Allegations of racist casting directors, makeup artists and nightclubs stir up London Fashion Week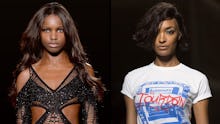 Perhaps the fashion industry's worst-kept secret is its long history of racist allegations lobbed from many within the industry for decades. Countless black models have come forward to speak about the many occasions when a makeup artist, for example, comes to a runway show or fashion shoot unprepared to work on their skin. Same goes for hairstylists too, who are baffled when faced with a black model.
Then there's the fact that most fashion shows remain overwhelmingly white, with diversity numbers rising ever-so-slightly season over season.
As Naomi Campbell told Channel 4 back in 2013: "I'm saying the act of not choosing models of color is racist. We're not calling them racist, we're saying the act is racist."
"We feel passionate [about this]. Feeling passionate about something doesn't mean you have to be angry," she continued.
So maybe it shouldn't be all that surprising that during London Fashion Week, which began on Sept. 15 and ends on Tuesday, allegations of racist behavior keep on arising.
Over the weekend, two different models came forward with accusations that they had experienced obvious racism while just trying to do their jobs. On Saturday, supermodel Jourdan Dunn tweeted out to her 285,000 followers a warning about a London nightclub, where she was holding her own event: "Do not go to Reign nightclub I repeat do not go [to] Reign nightclub they don't like black people."
"The way I was [treated] at my own event was disgusting," she wrote.
That very same day, model Leomie Anderson, who's worked with Victoria's Secret, wrote (in a tweet that has since been deleted) that after being confirmed for a show at LFW, she was told "the designer doesn't feel like using more than one black girl."
"Can't believe I went to a fitting for 8:40 a.m., got put into a line with six white girls, watch their looks get selected then get told..." she then tweeted out.
"'He can't find anything for you, you can go' along with a tanned Brazilian model. Once he selected a mixed girl with curly hair the quota."
Anderson teased that she would reveal the designer (who appears to be male) on Monday, but hasn't yet. Instead, she gave an interview to BBC Radio 4 in which she talked about this ordeal.
"I had a situation where I was at the fitting for a show and the designer made us line up and he made everybody else walk and then found them an outfit, everybody except for me," Anderson said. "I was the first model to be there, but I was the first model to be told to leave. 'Oh, he can't find a look for you right now, you need to go.' That's what I was told at this fitting."
"It's not uncommon," she continued. "I feel like there's been a lot of situations where black models have been made to feel like second-class citizens during fashion week or during their jobs because, at the end of the day, we feel like it is because of our skin tone."
Anderson, who has been outspoken about makeup artists not understanding black skin before, also detailed how black models continue to deal with unprepared makeup artists.
"I even had a scenario recently where I had to redo my makeup during London Fashion Week, because it was literally so gray and ghostly, I looked scary," she said. "So I still feel like it's very 50/50 for a model of color to sit in a chair and feel like my makeup's going to look good. You still don't know. I still don't feel comfortable as a black model sitting in hair and makeup."
Hairstylists continue to be a problem for her and her peers as well.
"With the hair, it's the fact that yes, they have more natural hair on the runways, but they still don't know how to treat our hair," Anderson said. "My friend Maria Borges, she has a lovely, beautiful afro, and she said that when she came backstage to a show, they would literally say, 'Oh her hair is done,' and she's like, 'No, you need to brush it, you need to shape it.' ... But to them, it's, "Oh, already done.'"
According to her though, she's going to continue to speak out about these kinds of issues, until she sees a change.
"At this point in my career, I feel like me being silent is me not standing up for the other young girls who are coming up in the industry," Anderson said. "I remember when I was younger and I wasn't saying anything, I'd be going down the runway with my face looking gray, I'd be crying backstage because nobody wanted to do my hair or someone said a comment that was really offensive to me and I didn't say anything. Now I feel like I'm 24 years old, I'm at this point where I want to be able to do something so that way when those younger girls are coming up, they don't come across the same problems that I've come across."
Based on the conversations black models continue to be having these days on the issues facing them in the industry, that might take a while.