Georgia Tech president blames "outside agitators" for protest following shooting of Scout Schultz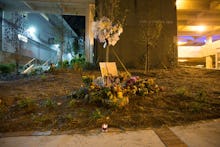 Georgia Institute of Technology president Bud Peterson blamed "outside agitators" for a Monday night protest following a fatal shooting by campus police, the Atlanta Journal-Constitution reported on Tuesday.
In a letter to the university community, Peterson said the protest, during which a police vehicle was set on fire, was caused by "several dozen others intent on creating a disturbance and inciting violence. We believe many of them were not part of our Georgia Tech community, but rather outside agitators intent on disrupting the event."
The protest Monday night began shortly after a vigil for Scout Schultz, a 21-year-old student who was fatally shot by campus police on Saturday, concluded.
The peaceful vigil held for Schultz "ended quietly" on Monday, CNN reported Tuesday. Some 20 minutes later, a separate group marched to the campus police station while chanting, "This is not O.K.," a Georgia Tech doctoral student who was at the earlier vigil told CNN.
Protesters confronted campus police outside of police headquarters, CNN reported, and a video posted on social media showed a campus police car on fire.
Three people were arrested during the protest, CNN reported, citing information from the university. They were charged with "inciting a riot and battery of an officer."
Who was Scout Schultz?
Schultz, a fourth-year student studying computer engineering, was scheduled to graduate in December, Schultz's father, William Schultz, told reporters on Monday, according to the Associated Press. Schultz had a 3.9 GPA, their father said.
Schultz, who was intersex, identified as nonbinary and used they/them pronouns. Schultz was an LGBTQ leader on campus and served as president of the Pride Alliance at Georgia Tech, an on-campus LGBTQ advocacy group.
A post on the group's Facebook page about Monday night's vigil called Schultz an "impactful and charismatic leader."
In a message posted on the Pride Alliance website, the group said, "We are all deeply saddened by what has occurred. ... Scout always reminded us to think critically about the intersection of identities and how a multitude of factors play into one's experience on Tech's campus and beyond. We love you Scout, and we will continue to push for change."
The officer who shot Schultz was responding to a 911 call late Saturday night in which the caller reported a "white male, with long blonde hair, white T-shirt and blue jeans who is possibly intoxicated, holding a knife and possibly armed with a gun on his hip," Georgia Bureau of Investigation spokeswoman Nelly Miles told the AP in a statement. Schultz was the one who originally made the 911 call, Miles said.
According to the GBI, an officer fatally shot Schultz after they refused commands from officers to put down what appeared to be a knife.
CNN reported that cell phone video of the shooting showed an officer "repeatedly yelling" at Schultz to put down the knife and to stop moving before opening fire.
According to Miles, officials later found three suicide notes in Schultz's dorm room, the AP reported. No gun was found at the scene of the shooting, but Miles said officials found a multipurpose tool that contained a knife.
Speaking to reporters on Monday, L. Chris Stewart, an attorney for Schultz's family, said Schultz was in the midst of a "mental breakdown" and that the officer had overreacted, CNN reported.
"The mentally ill are looking for a way out when they're having a full breakdown, and there's no way you should be able to use a police officer to take your life when that person isn't threatened," Stewart said, according to the AP.
Stewart also said the GBI had confirmed to him that the knife blade in the tool Schultz had was not out.
Schultz had been with diagnosed with depression, their mother, Lynne Schultz, told the Atlanta Journal-Constitution, and had attempted suicide two years ago. But William Schultz said Schultz had spent the summer at home and had returned to school with no obvious issue, the AP reported.
"It was intermittent. ... There was trouble in middle school, and then there was improvement," Lynne Schultz told the AJC about her child's mental health. "Scout spent more time being fine than not fine."