Trump hints that US will pull out of Iran deal in UN speech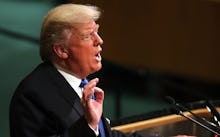 President Donald Trump suggested the United States may pull out of the Iran deal during his address to the United Nations Tuesday, calling it "one of the worst and most one-sided transactions the United States has ever entered into."
"Frankly, that deal was an embarrassment to the United States, and I don't think you've heard the last of it," Trump said. "Believe me."
Trump has repeatedly criticized former President Barack Obama's landmark 2015 deal to scale back Iran's nuclear program, describing it during his last debate with Hillary Clinton as "the stupidest deal of all time."
But in April, the Trump administration certified that Iran is complying with the terms of the deal — seemingly distancing itself from candidate Trump's strong rhetoric against its terms.
The deal stipulates that the U.S. will unfreeze tens of billions of dollars of Iran's assets if the country reduces its number of uranium enrichment centrifuges and shrinks its uranium stockpile by 98%.
Trump on Tuesday called Iran a dictatorship masquerading as a democracy whose chief exports are "violence, bloodshed and chaos," and called on the U.N. to confront the nation.
"We cannot let a murderous regime continue these destabilizing activities while building these dangerous missiles, and we cannot abide by an agreement if it provides cover for the eventual construction of a nuclear program," Trump said.