Christian Siriano's diverse new Barbie collection features nods to Solange, Leslie Jones and more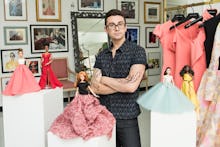 Christian Siriano is one of those designers who takes diversity in fashion seriously, casting models of various sizes in his fashion shows and making a point to design for celebrities of different sizes, too. So it only makes sense that when he teams up with Barbie for a collaboration, those dolls are super inclusive as well.
The Siriano Barbie doll collection, in truth, looks like a Siriano show, featuring all four of Barbie's body shape options, and dolls of various races and hair textures.
"Barbie is a fashion icon — she's been dressed by a multitude of designers over the years who have used her as a canvas to reflect beauty of the moment," Sejal Shah Miller, the vice president and head of Barbie global marketing for Mattel, said in a press release. "We are thrilled that Christian is the next designer to be inspired by Barbie and is showcasing a diverse and inclusive view of red carpet looks."
What's particularly cute about this collab too is that the dolls pay tribute to some of Siriano's brightest fashion moments, like when the designer stepped up to dress Leslie Jones for her Ghostbusters premiere, after she had trouble finding a designer herself.
Another doll is a nod to Solange at Art Basel in a Siriano yellow look.
Another is of Sarah Hyland at the 2014 Emmys.
Another doll is inspired by the time Sarah Jessica Parker wore Siriano for a Marie Claire spread.
And then, finally, the white and blue dress is one of his looks from his 2018 Resort show, made into a miniature.
For Siriano, this collaboration is a big deal.
"I'm thrilled to be teaming up with Barbie," Siriano said in a statement to Mic. "I've loved the brand since I was young, so it's a dream come true to be collaborating with them to tell this story of body inclusivity and diversity."