3 takeaways from Trump's fiery "America First" UN address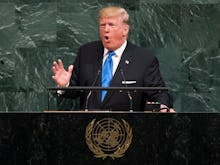 President Donald Trump renewed his inauguration promise to "put America first" in a fiery address to the United Nations General Assembly Tuesday, calling on member nations to "embrace their sovereignty" and confront "wicked" regimes like North Korea, Iran and Venezuela.
"We are calling for a great reawakening of nations," Trump said. "History is asking us whether we are up for the task. Our answer will be a renewal of will, a rediscovery of resolve and a rebirth of devotion."
Here's what you need to know about the president's first speech to the U.N. General Assembly.
1. Trump sees nationalism as solution to troubled world
Trump spent much of his first address to the U.N. outlining a dark worldview, one in which cultures are under attack and portions of the world are "going to hell."
In a callback to his "America First" inauguration address in January, he posited nationalism as a solution to the world's problems, telling the U.N. that countries should "embrace their sovereignty" in foreign relations.
"The true question for the U.N. today, for people all over the world who hope for better lives for themselves and their children, is a basic one," Trump said. "Are we still patriots? Do we love our nations enough to protect their sovereignty?"
The influence of Stephen Miller, who also drafted Trump's "American Carnage" inauguration speech, could be deeply felt in the address, particularly in references to preserving nations' individual "cultures."
"We must uphold a respect for law, a respect for borders, a respect for culture," Trump said.
The remarks not only reflect what Trump describes as his focus on the "forgotten" people of the U.S. — they also reflect his skepticism of the United Nations, which he praised Tuesday while also slamming it as a flawed "bureaucracy."
"The United States will forever be a great friend to the world, and especially to its allies," Trump said. "But we can no longer be taken advantage of or enter into a one-sided deal where the United States gets nothing in return."
2. But he might still see value in the U.N.
Though he reiterated concerns that the U.S. is getting a raw deal from the U.N., he did suggest that he would not mind what he called an "unfair cost burden" if the organization could deliver results.
"If it could actually accomplish all of its stated goals, this investment would easily be well worth it," Trump said.
In a reflection of the bipolar nature of his foreign policy vision, he also seemed to undercut his "embrace sovereignty" message with calls for coordination between the world's nations to "unlock the potential of life itself."
"We will fight together, sacrifice together and stand together for peace, for freedom, for justice, for family, for humanity and for almighty god who made us all," Trump said.
3. Trump still escalating rhetoric on North Korea and Iran
One of the "one-sided deals," to Trump, is the Iran Nuclear Deal, which he has long said is "the stupidest deal of all time."
In the speech Tuesday, the president hinted that he may pull the U.S. out, describing the landmark 2015 agreement as an "embarrassment."
"I don't think you've heard the last of it. Believe me," Trump said.
His strong words for Iran were surpassed only by his threat to "totally destroy" North Korea if the "twisted" Kim regime threatens the U.S. or its allies.
Once again mocking Kim Jong-un as "Rocket Man," Trump kept his brinkmanship going with the regime, which has continued its nuclear program despite the president's promises of "fire and fury."
In his remarks — which left some diplomats "taken aback," according to CNN — Trump also said the U.S. was prepared to further intervene against "loser terrorists" in the Middle East and the Maduro regime in Venezuela. Trump called on his counterparts to confront the "rogue" governments.
"If the righteous many do not confront the wicked few, then evil will triumph," Trump said. "When decent people and nations become bystanders to history, the forces of destruction only gather power and strength."